By
Phil
- 3 June 2016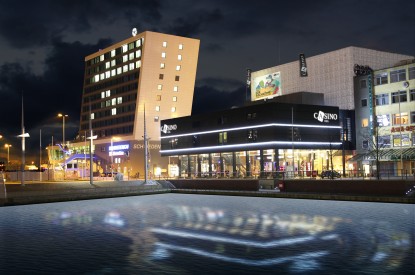 Casino Schleswig-Holstein in Germany will become the first casino in Europe to take DRGT's drScreenMicro to its slot machines.
drScreen enables operators to make use of one of the monitors of the slot machine. It can the touchscreen monitor, enabling player interaction (such as attaining accounts details) or the upper screen (for advertising use, especially when the slot is not in use). It can even be linked with drInteractive to allow sports betting to be done whiles playing (and having the chance to watch the sports event on the slot screen). Further drScreen products include the drScreenMini and drScreenMicro.
Björn Höhne, Head Game Manager of Casino Schleswig-Holstein explained the benefits of making use of the small player tracking screen: "We place emphasis on discretion and so we choose to communicate with our customers on a small screen. We can show our logo, place advertising or inform our guests directly on the slot machines with drScreenMicro. This is just the technology we are looking for."
Joost van Egeraat, Sales Director Europe for DRGT, added: "We are proud to have received such a strong reference from a very loyal customer. We are continually innovating to increase the value in our system. This is shown here with the introduction of drScreenMicro. Serverless technology, excellent service and support, simplicity in use, optimal security and a host of marketing benefits – that is what we stand for at DRGT and explains why we are and remain the fastest growing systems company in the global gaming industry."
Casino Schleswig-Holstein operates five casinos in the most northern state in Germany between Hamburg and the Danish border. All five casinos – in Flensburg, Kiel, Lübeck, Schenefeld and Sylt – have been running on the DRGT system since 2010.
Casino Schleswig-Holstein was the first customer to integrate the Systems in Progress (SiP) system in Germany. SiP was acquired by DRGT in 2011 and was quickly fully integrated into the DRGT system.
Mr. Höhne added: "We are extremely satisfied with DRGT. The serverless technology means there is no single point of failure. With our previous supplier, if the server went down, the whole slots went down. We do not have this worry anymore – thanks to DRGT. DRGT is very reliable and secure. Furthermore, DRGT is simple to manage – this have saved us considerable time and costs."
Given the competitive environment in the gaming market, today more than ever it is vital for casino staff to be able to provide optimal customer support. "Previously our staff had to spend too much time focusing on the system. Thanks to DRGT, our staff knows how simple the system is to manage and how secure it is. This extra time is invested in the customer. That is the positive knock-on effect on having DRGT on the casino floor – it frees up time to focus more on the players. Let me also say how important service is. DRGT takes service seriously and is always there for us – in a timely and professional way. In short – choosing DRGT was an enormous advance for us," praised Mr. Höhne.