By
Phil
- 21 June 2021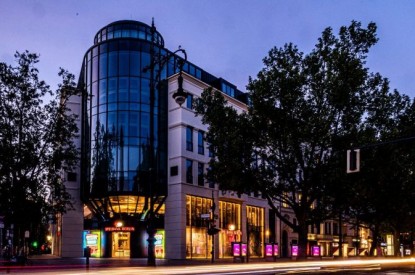 With German operator Spielbank Berlin finally able to reopen some if its casinos, Potsdamer Platz, Alexanderplatz and Spandau all reopened on June 14, the operator has also been able to launch its new location on Kurfürstendamm.
Spielbank Berlin has extensively converted the former BMW house in an exposed and prime location for the new casino in City West and offers visitors a high-quality gaming experience in an exclusive ambience.
The new casino has a playing area of ​​around 1,000 square meters. On the upper floor, the so-called "classic game" takes place at six tables (two American Roulette tables and two Baccarat and two Black Jack tables). There are also 40 TouchBet roulette stations. There are a total of 100 slot machines on the ground floor. A diverse gastronomic offer rounds off the visit experience in the new casino.
"We are very pleased that after such a long period of closure we can finally reopen the casinos in the capital," said Gerhard Wilhelm, spokesman for the management of Spielbank Berlin. "The new location on Kurfürstendamm is an architectural highlight and offers a range of games on a metropolitan level. The response from Berliners and tourists is already overwhelming ".
He insisted on personally welcoming the first visitor on the opening day on Kurfürstendamm with a bouquet of flowers and a bottle of champagne. "The new location on Kurfürstendamm was converted by us with a lot of effort and attention to detail and we could hardly wait to welcome our guests here," said Mr. Wilhelm. "That's why we came up with a special greeting for the first visitor after the long lockdown."
Spielbank Berlin employs more than 500 people who had to be temporarily put on short-time work during the pandemic. This has an end now. "We have succeeded in safeguarding the jobs of our employees and thus also the future of Spielbank Berlin. That was a great challenge that we mastered brilliantly together with our employees, "says Wilhelm. "Now we will return to normal operations as soon as possible."
The opening of the casinos is also of great importance for the city's tourism industry and, with the new branch, especially in City West. After all, Spielbank Berlin welcomes a total of more than 600,000 guests a year at its four locations.
"We are pleased to be able to operate a new location in City West again with immediate effect and thus to be able to make an important contribution to increasing the attractiveness of the area," said Mr. Wilhelm.
However, for reasons of health protection, distance and hygiene rules must still be observed. There is also currently a mask and test requirement, with the exception of those who are vaccinated and genesis.
"We assume that in view of the sharply falling incidences, these measures will be gradually relaxed," said Mr. Wilhelm. "It goes without saying that it is very important to us to ensure the best possible health protection for our guests and employees until then. That is why we are currently still strictly following the requirements of our hygiene and safety concept, with which we can guarantee safe gaming operations."