By
Phil
- 7 August 2023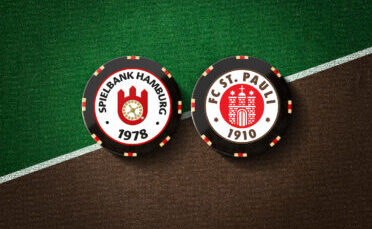 FC St Pauli is pleased to welcome Spielbank Hamburg, which has been based in the city for 45 years, as a new partner in the Captain category starting this season.
As a provider of state-licensed gambling, Spielbank Hamburg assumes important functions in the areas of youth and player protection within the framework of the State Treaty on Gambling, thus focusing on the social responsibility associated with the topic of "gambling".
Martin Geisthardt, Head of Marketing at FC St. Pauli: "With the conclusion of the partnership with Spielbank Hamburg, we see ourselves confirmed in our way of dealing responsibly with the topic of gambling."
In the immediate vicinity of the stadium, the casino will appear in the form of perimeter and banner advertising. The presentation of products and/or offers is explicitly omitted at these points in order to focus on channeling the game and not to create an additional incentive to play.
For registered Mein St. Pauli users, Spielbank Hamburg also presents a competition for each Bundesliga game via the app, the winner of which can look forward to a matchworn jersey of FC St. Pauli.
Maik Janßen, Head of Corporate Communications at Spielbank Hamburg: "As a traditional Hamburg company, we are delighted to be able to further strengthen our commitment to regional partnerships and to have found a club in FC St. Pauli that we will be able to accompany on its journey in the future. In addition, the decisions made by the club's management in the recent past with regard to the selection of supporters show us that we are in good hands at the Millerntor, not only because of the direct proximity, but also with regard to the values represented."