By
Phil
- 2 September 2014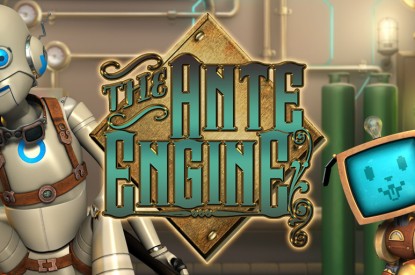 AppleJack Gaming is releasing its first slot game, the Ante Engine, to the Odobo Marketplace.
The game highlights the studio's versatility following previous releases consisting of an original table game and a sophisticated Baccarat classic.
The Ante Engine is an accomplished game that demonstrates the industry experience of studio founder, Paul Overton. The quirky five-reel, three-row slot game invites players to take the helm of the mysterious Ante Engine: a retro, steam punk gambling machine complete with rivets and with a sense of wonder as it whirrs back into life with the promise of big wins. The characters include an endearing robot and his mechanical dog returned from a bygone era.
The visuals are striking and accompany a strong theme and innovative features that serve to set this game apart from other slot games. The original maths model includes a 'widget system' shown as modifier bulbs that affect the outcome of a win and stay in place for three spins to increase player engagement. Filling all three widget sockets triggers the 'Autogauge Motivator', which pushes the Ante Engine machine into overdrive, triggering a cascade of free spins with double the usual payout lines.
Peter Mareš, Chief Technology Officer at Odobo, said: "AppleJack Gaming never fails to deliver with high production values and impressive visuals. In this game, the maths model is unusual and offers something different to regular slot game players."
Paul Overton from AppleJack Gaming commented: "We were determined to create a game that gave players plenty of opportunities to capitalise on wins. The theme is quirky and appealing and we hope players enjoy it."