By
William
- 13 March 2023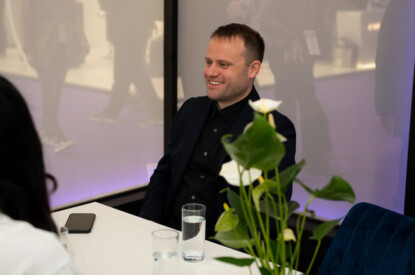 Evgen Belousov, CEO of GR8 Tech, discusses differentiating from other platform providers in the B2B space and explains why 30 large lifetime operator partners is preferable to 1,000 small clients.
We begin with the company's recent transformation from Parimatch Tech.
GR8 Tech is not just a name change, but a representation of our evolution and strategic growth as a company. We had focused on going to the B2B area for quite some time, and the establishment of GR8 Tech reflected the breaking point in this transition. It is a result of our internal development and a move towards the B2B sector.
We believe that this change will better position us to serve our partners and deliver the highest quality products and services in the industry. We are looking for experienced operators that don't own their own platform or are experiencing issues with their platform to become lifetime partners. We want to grow our businesses together by ensuring our operator partners don't have any weaknesses with their technology and platform.
What types of weaknesses are you referring to?
There are several issues we have identified through our experience working with the Parimatch brand in multiple markets. In Parimatch's history, we have faced limitations with the technology stack. Having subsequently created a product capable of processing more active players than Parimatch currently has, we see no reason to hide such great technology.
As an operator, you always want to adapt and customise your product. There are regulatory differences across markets, demanding tailor-made solutions, especially for the biggest operators in multiple jurisdictions. We have discovered that lots of B2B software solutions currently offered in the market can become a bottleneck. One of our primary goals at GR8 Tech is not to fall into this trap and become a bottleneck for operators who want tailor-made, customisable solutions.
Our API-based architecture is built to support our vision of becoming a lifetime partner for operators. We want to give as much freedom as possible to operators. But with freedom also comes responsibility. If they intend to be responsible and have the freedom to adopt their front-end for players, they can do this—but they will be responsible for the product's overall look.
Furthermore, if an operator has an existing CRM team or outsources CRM to another company—let's use Optimove as an example—then our platform facilitates connection with other CRM systems such as Optimove. However, in this scenario operators are responsible for getting data from the core platform to the CRM, building product user journeys, and so forth.
We are giving operators the freedom to really adopt their operation function and product for their players. This is our point of difference. We don't want 1,000 small clients, we want 20-30 big clients. Our offers are for the major gambling operators.
Flexibility is key…
There is a lot of technology in the iGaming industry now, so finding a suitable solution to meet a certain need is not that hard. What is hard though is finding a solution that not only meets the current need, but is also flexible enough to adapt to changing business requirements in the future. Therefore, offering tailor-made and evolving solutions to clients is so important.
It ensures that clients have the right tools in place to stay ahead of the curve and continue delivering a seamless gaming experience to their customers, even as the industry evolves. Instead of constantly adapting to market changes and worrying about a patchwork product from different providers, we provide a comprehensive customised solution backed by intelligent service and non-intrusive but reliable support, allowing operators to free up their resources for strategic planning and business development.
What are the main challenges facing operators in providing this seamless gaming experience?
One of the main challenges facing operators in providing a seamless gaming experience is the need to constantly stay ahead of the curve in terms of technology.
The iGaming industry is rapidly evolving, and operators need to have the right tools and systems in place to ensure that they can deliver an exceptional gaming experience to their customers.
This means that operators must be willing to invest in the latest technologies and to constantly adapt to the changing landscape of the industry.
However, technology won't help if there's no understanding of the needs and preferences of the customers, as well as the changing market conditions.
And these require tremendous market expertise, experience, and the ability to react quickly and proactively—another set of benefits GR8 Tech offers to its clients.
At its core, online gambling is a technology business. Punters looking to place a bet receive a feed which operators want customised. At GR8 Tech, we have our own trading tools that adapt odds and perform this customisation.
Bettors receive the customised feed in the sportsbook, make their selections and operators accept the request to place a bet, but only after the profile of players has been background checked and profiled.
The entire process is complicated and incomparable to many other digital industries, such as retail where customers simply add products to the basket and checkout.
Ultimately, the key to success in the iGaming industry is a combination of innovation, agility, and a commitment to delivering exceptional customer experiences.
How does the GR8 Tech platform increase player engagement and revenue growth, ultimately creating a more competitive business?
GR8 Tech's iGaming platform covers the most common issues affecting player engagement and revenue growth.
Bespoke player experience is provided, on the one hand, by the very high-performance capabilities, flexibility, and modular structure of our platform, which facilitate maintenance and increase productivity.
Today, GR8 Tech Platform serves millions of active players and can handle the peak loads of any sporting event on the planet with 99.95 per cent uptime.
With <120 ms average spin speed, 50-70 ms requests latency, 54,000 wallet transactions per second, and one million settlement processing per minute, it delivers a seamless gaming experience that's a cornerstone of player engagement.
On the other hand, omnichannel tech is complemented by quality and diverse content, a wide choice of features to engage players, and quality operational services. All of this allows operators to maintain a strong focus on engagement and customer satisfaction.
How does the iGaming platform help streamline operations?
Streamlining operations is all about avoiding unnecessary complexities and improving efficiency, which leads to cost savings and increased productivity. GR8 Tech's iGaming platform allows for achieving that in several ways.
First, its user-friendly interface, tested and proven by many years of B2C operations under the Parimatch brand, makes it easy for operators to manage their gaming operations, reducing the time and effort required to perform everyday tasks.
Second, the platform is highly modular, allowing operators to choose only the needed features and quickly add new ones as they become available and/or demanded. This reduces operational costs and helps ensure the platform is always up-to-date and aligned with industry trends.
Finally, the platform integrates with a wide range of tools and systems, allowing operators to streamline their workflow and eliminate manual data entry, which increases efficiency and reduces errors.
Another treat from GR8 Tech is that we offer all these tools and systems, so customers don't have to search for technology from different suppliers, put together a "Frankenstein" solution and worry about its stability. We provide a comprehensive approach that ensures stable and flexible work for a long time.
What benefits have come from GR8 Tech's partnership with AWS, and how do you see it developing?
There are multiple different benefits to AWS. Foremost is freedom. If one day the volume is 10,000 active players, operators require a certain size of the infrastructure. The following day, there can be 20,000 active players meaning the infrastructure needs scaling accordingly. AWS can do this.
The relationship with AWS has allowed GR8 Tech to take advantage of cutting-edge cloud technology, which has resulted in significant improvements in time-to-market for our products and features while maintaining their bespoke quality. This was a pivotal thing that boosted our B2B transformation, as we significantly improved the efficiency of production.
It's also not just a question of infrastructure—but of the technology stack. AWS' brand, scalability, the freedoms they provide as a technology solution, and the fast response time to any technical requests or assistance we might have makes them a great partner for us.
Looking forward, we see the relationship with AWS continuing to be an integral part of our strategy, as we seek to continuously improve our offerings and stay at the forefront of innovation in the industry.
What advantages come from understanding B2C clients and the problems facing operators?
Our unique evolutionary path gives us the ability to tailor solutions to meet the specific needs of the operators, improving their players satisfaction and engagement, and increasing revenue growth and competitiveness in the market. It also provides a better understanding of the industry landscape and how to effectively navigate it.
This allows for the development of more effective and efficient solutions that can address the challenges facing operators and meet the evolving needs of customers—a vital skill for a B2B iGaming company.
What are the major differences between working within the B2B space compared to B2C?
Our primary goal is to change the perception of the company from being seen as a B2C partner to B2B. We can heavily advertise and build a stand, but the most difficult aspect is to change the mindset of people within the industry.
We want to develop an understanding of who we are and what we do – this takes time. Several months ago, our main clients were players. Now, our clients are operators.
Educating the industry on our processes and policies that have been designed to make the lives of operators as comfortable as possible is key.
Operators aren't a single entity – they comprise marketing specialists, product specialists, analytical specialists, and C-level executives – all of whom have different needs. We want to satisfy most of them, but also be able to explain why something cannot or should not be done.
Now I am working within the B2B business, as a CEO I'm standing on booths viewing the activities of the likes of BetConstruct, Softswiss and Kambi in a different light.
I'm noting the mechanics, how they acquire customers, even how they speak. It's a fundamentally different mindset.
Are you enjoying the B2B side of business?
Definitely. It's a challenge because you still need to work on different mechanics with sports bettors and casino players, but the task becomes more complicated.
You need a good, convertible B2C product, as well as a comfortable interface for operators to work with. It's certainly more complex than B2C.
Will you tap into the extensive sponsorship and brand reach of the Parimatch brand in getting the GR8 Tech name recognised within the B2B space?
The Parimatch brand operators are now our B2B clients. We provide our platform to Parimatch across most regions – the B2C side operates on at least three different platforms – but we cover around 95 per cent of active Parimatch players across the globe.
We are certainly going to promote the fact GR8 Tech is a partner and software solution provider to Parimatch.
We will collaborate with top management from Parimatch to recommend our software and for sure there will be opportunities, including sponsorship.
There will not be any kind of direct integration because existing sponsorships with Premier League teams and esports organisations are with Parimatch, not GR8 Tech, but there will be activities that will allow us to promote ourselves.
How has ICE been for GR8 Tech and yourself?
The exhibition has been very intensive as a manager and CEO. Every day I have at least seven to 10 meetings, which is quite complicated. It's always good to be at ICE to meet with all our partners as well as the third-party solutions we are utilising.
As a software provider, we have lots of these third-party solutions – feed providers, casino game providers, AWS, etc. – and want to continue building and developing these relationships.
We also have enjoyed productive meetings with existing and new clients who we are looking to onboard onto our platform in the coming months.
ICE is a good place to make these meetings happen as everyone is in one place. Hard work but rewarding.
To find out more about GR8 Tech, click here.