By
Phil
- 8 June 2020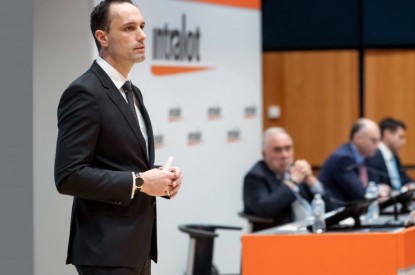 Intralot's first quarter revenues were down 47.1 per cent to €102.0m following the closure of its Eurobet Bulgaria sportsbook from mid-February following its suspension by the Bulgarian government.
Bulgarian revenues were down €71.4m. During the three-month period, Intralot systems handled €3.7bn of worldwide wagers, posting a 5.9 per cent year-on-year increase. East Europe's wagers increased by 76.5 per cent, reflecting the new Sports Betting era dynamics in Turkey since September 2019. North American bets increased by 22.6 per cent, driven mainly by Illinois full quarter contribution vs. launch in mid-February 2019. This was offset by South America's decreased wagers, down by 29.9 per cent, West Europe's were down by 19.5 per cent, Africa's by 15.2%, and Asia's by 7.7 per cent, all mainly affected by the Covid-19 pandemic.
Group Cash at the end of 1Q20 at €142.0m, higher by €7.4m vs. 1Q19. Net Debt came in at €611.1m, lower by €36.4m year-on-year. By evaluating the latest available May 2020 data and known lockdown conditions per jurisdiction and the slow restart of sporting events, the company's best estimate impact for 2020 remains in the vicinity of €25m at Group's EBITDA level. But there was plenty of good news. On May 11, 2020, Intralot announced the launch of eSports betting for its partner Intralot de Peru, supporting the leading lottery operator in Peru to enhance its sportsbook and offer an elevated player entertainment through content within one of the fastest growing segment of the online game market. On May 13, 2020, Intralot announced the launch of Sports Bet Montana in Montana of USA. Intralot deployed its new intralot Orion sports betting platform to enable the Montana Lottery's sports wagering self-service terminals and mobile sports wagering offering. On June 1, 2020, Intralot launched its Digital Sports Betting solution in Washington, DC. INTRALOT, as part of its current contract with the DC Lottery, deployed its new INTRALOT Orion sports betting platform to enable the GambetDC mobile and desktop sports betting offering.
Intralot Group CEO Christos K. Dimitriadis said: "During the first quarter of the year, we have kept witnessing an increase in the handled wagers and an improvement of the performance of technology contracts in North America, demonstrating the dynamics of the region. Group revenue and EBITDA were mainly impacted by the regulatory changes in Bulgaria, the developments in Turkey and the impact of the pandemic in non-US jurisdictions. Going forward, we expect that our new strategy, as presented during the AGM and as already being implemented, will return the company to growth."
The deficit from our Turkish operations was minus €11.9m driven mainly by Inteltek's contract discontinuation post August 2019, as well as by a decline in Bilyoner's top line performance following the transition to the new sports betting era in Turkey, driven by a market share reduction and revised commercial terms, as well as the impact of the Covid-19.
Lottery Games was the largest contributor to Intralot's top line, comprising 65.1 per cent of its revenue, followed by Sports Betting contributing 13.5 per cent to Group turnover. Technology contracts accounted for 13 per cent and VLTs represented 7.8 per cent of group turnover, while racing constituted 0.6 per cent of total revenue of 1Q20. Reported consolidated revenue for the three-month period is lower by €90.7m year over year.
In 1Q20 the sports betting market expanded close to 3.5 times year-on-year (with the rate of expansion being lower compared to that of the first four months of the new era primarily due to the Covid-19 pandemic impact), with the online segment representing close to 85 per cent of the market.