By
Phil
- 7 November 2019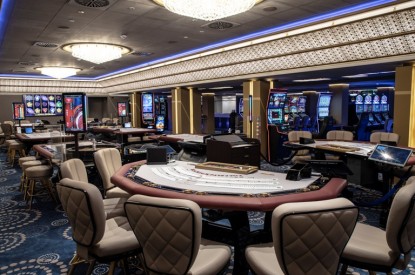 The Lynx Casino Florina opened earlier this month in Florina, a northwest Greece prefecture which borders North Macedonia and southeast Albani.
It is expected to rival casinos and slot halls located north of the Greek border port of Idomeni, in the Gevgelija district. The operating consortium has invested E9m with a luxury hotel due to open alongside the casino in the near future.
The casino has opened with 103 slots, from EGT, IGT, Novomatic and Merkur along with six roulette tables, six black jack tables and two poker tables. Employing a total of about 170 people, the venue will soon offer live music events, gourmet events with guest chefs, themed nights, live racing broadcasts and live sports broadcasts
The hotel will open in the former Xenia hotel, as part of a state-of-the-art mountain resort with a backdrop of lush forests and mountains. It will offer 40 rooms & suites and will become the region's only five-star resort.
The history of Florina's casino is a long and protracted one. The hotel was inaugurated in 1960 and in 1975 was bought by the current owners, who continued to operate it until the late 1990s. In 1994, a casino was licensed inside Xenia and whilst the Florina Casino Consortium completed the construction of the casino in 1997, the final authorisation wasn't approved by successive ministers and the gaming floor remained unopened. The Florina Casino consortium attempted to get final authorisation for the casino between 1995 to 2001 but failed and eventually the Greek Council of State ruled in favour of a €24m compensation claim.
It is being operated by the Totti Group, one of the largest snack companies in Greece, with brands such as Serenata, Koukouroukou and Amaretti. It also owns 51 per cent of the Greek Bingo Company located in Gerakas, Attica.
The Greek Game Supervisory and Audit Committee said: "This investment significantly upgrades the role and importance of the Florina acreage on a local, regional and cross-border scale, as it contributes to enhancing its development and development potential character of the wider region, attracting other new investments, creating new jobs and revenue for the Greek State. This development is very important, as until now the local community has been deprived of the operation of a large investment with high added value and strong multiplier effects.
"The approval of the launch of the investment of the Florina casino by the European Union, in strict compliance with the terms and conditions of the existing legislation, in conjunction with the overall regulation of the gaming market after the recent adoption of the framework for licensing of online gambling is a clear proof that the Greek State, with its competent authorities, is implementing a consistent and integrated development strategy in the gambling sector, accompanied by rapid development concessional procedures, in combination with rigorous regulatory oversight and control, for the benefit of the public interest, society and the Greek economy. "