By
Phil
- 30 March 2017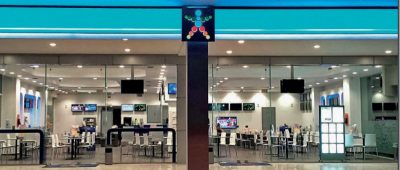 OPAP, the leading gaming operator in Greece, saw its revenues fall fractionally in 2016 by 0.2 per cent to €1,397.6m.
Revenues in the fourth quarter reached €399.6m down by 0.5 per cent due to lower figures in lotteries which were almost counterbalanced by growth in the sports betting and Hellenic Lotteries segments. Net Gaming Revenue (NGR) NGR decreased by 8.4 per cent to €573.0m versus €625.3m in FY 2015.
Net profit in 2016 came in at €170.2m, falling by 19.2 per cent whilst net profit in Q4 2016 increased by 6.7 per cent to €55.1m. the results in the fourth quarter of 2015 took a hit from a €15m license impairment, while Q4 2016 enjoyed a lower effective tax rate.
OPAP's CEO Damian Cope said: "Despite the ongoing economic challenges, which were reflected in the GDP contraction in Q4, OPAP's performance in FY 2016 was in line with our expectations. GGR remained broadly stable for the year and although we were heavily burdened by the increased GGR contribution rate to the Hellenic Republic, our underlying financial performance remained solid. During 2016 I set out the company's long-term ambition and the key strategic priorities and I am pleased with the progress that the OPAP team has achieved across many of the key initiatives. 2017 will be a year of unprecedented levels of change for OPAP and we have started well. The year began with the smooth deployment of the first VLT machines in our new 'Play' Gaming Halls. We also concluded agreements with our new technology partners and work on this transformation programme is well underway. More recently we successfully launched a retail common bond and finalised a new contractual relationship with our agent network. Although there is still a long way to go I am confident that the successful delivery of our plans for 2017 will act as a major step forward in the achievement of our "2020 Vision."
As part of this vision OPAP has chosen Novomatic Lottery Solutions (NLS), a member of the Novomatic Group, as its new technology partner in the field of numerical lotteries, covering Kino, Tzoker, Lotto and Proto. OPAP will migrate to the NLS platform during 2018. This process will also involve the replacement of all of the existing shop tills. NLS will also provide its Player Account Management System (PAM) to OPAP and this will be the foundation of customer relationship management, initially for digital channels. Agreement has also been reached with Playtech BGT Sports for the supply of software licenses and services for self-service betting terminals (SSBTs) and the subsequent introduction of a full sports betting solution for OPAP agencies network. SSBTs initial roll-out will commence in OPAP stores during H1 2017, followed by the introduction of an over the counter sports betting solution in 2018. The company's digital offering will also undergo a significant improvement and, given the fast-moving and competitive nature of this market, OPAP has selected Betgenius to become its primary provider of an integrated digital sportsbook service. Under the terms of the agreement OPAP will also receive fully-automated prices for around 130,000 events a year for the next two years, including all major football, basketball and tennis fixtures.
Mr. Cope said: "The new partnerships are consistent with the company's Strategic Priorities of building a world class portfolio of products and services and leveraging the latest digital and technology capabilities."
Following the November 2016 introduction of a new VLTs regulation by the Hellenic Gaming Commission OPAP restarted its plans for the operation of VLTs in Greece. Remaining committed to the project, four pilot Play Gaming Halls commenced operations in January, signalling the kickoff of the VLTs investment. At the end of March, 50 Play Gaming Halls along with 10 Opap agencies were already operational hosting a total of 1,274 VLTs.