By
Phil
- 28 May 2013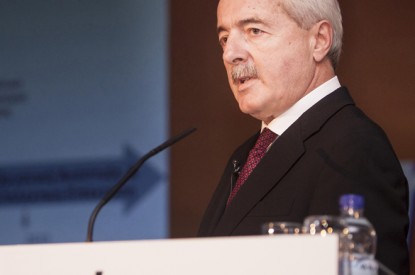 Revenue at Intralot increased by 2.5 per cent in the first quarter of 2013 reaching €355.8m. Earnings Before Interest, Tax, Depreciation and Amortization increased by 32.1 per cent to €55.1m, while Earnings Before Taxes (EBT) reached €21.2m, posting an increase of 39.7 per cent.
Revenues for the parent company for the period decreased by 30.4 per cent, to €28.4m. EBITDA increased by 46.3 per cent to €12.4m. Earnings After Taxes (EAT) increased by 101.8 per cent, to €9.1m.
Intralot CEO, Constantinos Antonopoulos, said: "We are very pleased with Intralot's results in the first quarter of the year, since the company achieved a significant increase of EBITDA by 32 per cent, net profit by 17 per cent and operating cash flow by 24 per cent, which reflects our strategy to improve the profitability of our existing projects and the contribution of new projects such as the VLT monitoring system in Victoria, Australia and sports betting in Azerbaijan. Intralot extended the contract with the South Carolina State lottery for three additional years, renewed its betting license in Cyprus, entered the virtual gaming and i-bingo market in Italy and commenced successfully its VLT monitoring system operations in the State of Ohio. It also became the only international company to have its terminals certified and approved by the China Sports Lottery (CSL), one of the two national gaming organisations in the important market of China. This means that Intralot terminals are approved to be potentially sold in all of the 31 provinces of the country, in which the lottery has operations.
We also became the first US lottery technology provider to integrate real-time video interactive play from a central system onto a self-service platform. This system went live in Washington D.C. last month and is expected to go live with the Idaho Lottery in July. Early results for these games have been very positive."
In 2012 the group's Revenues reached €1.4bn, posting an increase of 14.3 per cent, while EBITDA increased by 15.4 per cent to €177.5m. EAT-am (Earnings After Taxes and after minorities) were shaped at €6.1m and adjusted EAT-am reached €16.5m. Cash Flow from Operations increased by 39 per cent in the FY2012 period reaching €114m.
Mr. Antonopoulos added: "With a resilient and highly scalable business model, adaptable to different environments in the territories where the company operates, Intralot has increasingly built a strong foothold in all regions. We are now focusing on the organic growth of our current projects and the selective expansion in regions that meet our strategic goals. The solid FY2012 and 1Q2013 Financial Results ratify that we are on the right track regarding the targets we have set."
He added: "We are closely monitoring all business opportunities worldwide, focusing on public – private partnerships and Internet legalization in the US, privatisations and exclusive concessions, as well as market liberalisation in Europe and legalisation in Asia. In the years coming, Intralot will maintain its leadership in technology and product innovation, continuing to set the future trends of the gaming industry. At the same time Intralot will continue to further strengthen its financial position continuing to optimise its cash flow and improve its financial performance in all regions."
"As a closing remark, I would like to repeat our continuous target to improve the profitability and cash flow generation of our existing projects and to selectively participate in potential new opportunities. Such opportunities in technologies and operations of games include Brazil and Vietnam, as well as Greece, where we are participating in the process for the award of a 20 year concession to operate horse racing games in the country."