By
Phil
- 31 January 2019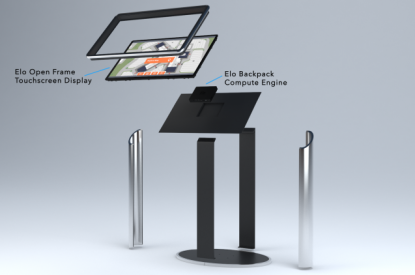 Elo will be showcasing its Backpack Android compute engine at ICE, meaning that creating beautiful gaming, betting and self-service solutions and deploying a kiosk network is now easier than ever.
The design brief was to transform what was a bulky and highly customised cabinet into a sleek, modern design with Elo Backpack and an Elo touchscreen monitor architecture, while lowering costs and improving scalability. With the wide range of sizes of Elo's open frame touchscreens, from 10 to 55 inch there is a solution for any type of size and format requirement, that is easy to integrate into any cabinet or enclosure.
The Elo open frame family delivers an industrial-grade solution that is cost-effective for OEMs and system integrators requiring a reliable product. Designed with reliability from the start, Elo's open frames deliver outstanding image clarity and light transmission with stable, drift-free operation for accurate touch responses. The 90-Series product line is available in a wide range of sizes, touch technologies and brightness, offering the versatility needed for casino gaming and self-service applications.
Elo's TouchPro projected capacitive (PCAP) technology supports touch through functionality for installations that require a front layer of glass with thickness's up to 6mm or solutions that require specific IP ratings. Whether you need a flush-mounted display or one that is fully-encased behind a cover glass, Elo's robust PCAP open frame touchscreens are purpose-built for durability in various applications and environments.
The Elo Backpack Android compute engine transforms touchscreen monitors and signage displays into commercial-grade systems capable of running audio and video content, interactive HTML webpages and Android-based apps. The Backpack is a low-power, solid state fan-less computing solution running Android 7.1 (Nougat) with a Qualcomm Snapdragon 625 processor offering high-end features such as support for full HD+, fast connectivity with integrated X9 LTE, and powerful 2.0GHz performance with Octa-core ARM Cortex A53 64-Bit CPU. It offers offes connectivity of the Elo touch monitor plus 2x USB 2.0, Ethernet, Bluetooth, Wi-Fi, HDMI output, micro-SD, and GPIO.
Users can easily scale Elo's commercial Android platform to many sizes and form factors enabling a consistent deployment that is cost effective and optimized for commercial use. The Backpack also supports peripherals for scanning, payment, printing and biometric input. With potential to revolutionize the kiosk architecture, the compute engine simplifies delivery of content and enables remote management capabilities via the EloView portal. EloView is Elo's secure platform for remote content deployment and device management, allowing one central point to seamlessly update digital content across multiple locations.