By
Phil
- 30 January 2015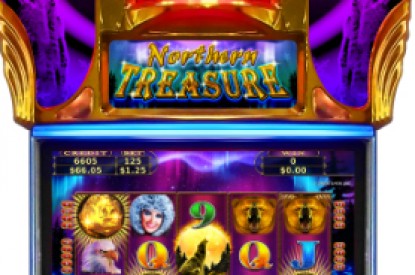 Konami Gaming will be debuting titles for both the Podium Monument and Rapid Revolver cabinets at this year's ICE where it will will demonstrate the company's continued delivery of robust game content combined with novel entertainment experiences that help casino operators get more from their floor.
Over the past year, Konami has achieved continued momentum across Europe, especially for its SeleXion multi-game product with advanced language settings and operator-configurable game packages. Konami's 2015 ICE exhibit will also include a hands-on demonstration environment for its Synkros casino management system, so guests can explore a variety of features and technology including True Time Windowing, True Time Tournaments, and Advanced Incentives Bonusing.
This year for the first time, Konami will be bringing its tall-top Podium Monument cabinet to London's ICE Totally Gaming. Monument includes a standard Podium base but is enhanced with an oversized top box, complete with a vertically-mounted 32" monitor and internally-lit bezel for greater attraction and entertainment. Available in fixed 30- and 40-line configurations, Snow Stars: White Winter is Konami's first custom Monument title for international markets. This game includes a 2-level standalone progressive bonus feature that allows players to select one of three skiers representing more free games, more wilds, or more multipliers, who then race off and launch off a gigantic ski jump to land on a corresponding award amount. This theme excellently leverages the cabinet's extra-tall top screen and creates a unique experience that's engaging in its very nature.
Konami's Rapid Revolver will also make its ICE debut with two elegantly-designed themes slated for international release: Rising Dragon and Northern Treasure In lieu of an upper LCD screen, Rapid Revolver takes a unique spin on classic mechanical reels by mounting six stacked and vertically-mounted drums on its oversized top box, surrounded by synchronized high-impact sound and lighting. Designed to stand out on a casino floor and grab the attention of casino guests, it presents two distinct gaming concepts fused into one by combining traditional video reel on the lower screen with spinning reels up top. This game is a must-see for operators in markets abroad, and both series titles will be on display at this year's show for guests experience its wild, truly immersive play mechanics.
SeleXion multi-game machines, both upright and slant, will also be at Konami Booth S5-110, with each machine displaying unique game packages, for Spain, Sweden, Holland, and other specific configurations by jurisdiction. SeleXion features up to eight different game themes and switches instantaneously between games, denominations and languages, even down to its dynamic button panel. Its scrolling multi-game attract mode is designed to alert customers to the cabinet's special functions and variety of game themes available. At ICE, Konami will display a variety of new multi-language, multi-currency titles, such as Inari Riches, Exotic Princess, More Gold More Silver, and Spellbound Princess—each providing a versatility and variety that audiences across diverse regions will enjoy.
Konami's Synkros casino management system will feature a wealth of new products and tools at ICE this February, further evidencing the company's sustaining innovations in casino marketing and operations. Konami's systems demonstration area allows guests to explore the newest Synkros updates first-hand. With regard to marketing tools and automations, a variety of new enhancements to Synkros' system-delivered community gaming application True-Time Tournaments will be showcased. True-Time Tournaments uses True-Time Windowing to bring unique tournament games to any video-based EGM on the floor. It offers both player-on-demand and traditional synchronized tournament applications which are both managed through an integrated backend module and supported by an ever-growing library of Synkros tournament games to help keep casino marketing promotions fresh.