By
Phil
- 3 February 2017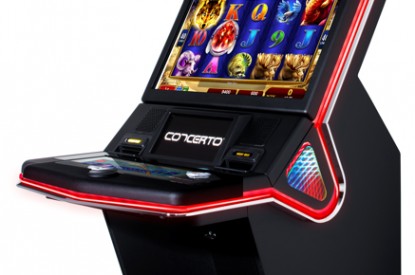 Konami Gaming has announced the ICE premiere of its expanding Concerto Collection of core video slots cabinets, including Concerto Slant, Concerto SeleXion multi-game, Concerto Stack single tall screen, and Concerto Crescent single curved screen.
Konami will showcase an array of new cabinets and original base game themes to an estimated 28,000 attendees at ICE Totally Gaming in ExCeL London. More than half the games on display will include multi-game functionality, across a variety of slot formats to provide casino players with a rich array of game play options.
"Our SeleXion multi-game technology is the centerpiece of this year's ICE show, reaching everything from our new Concerto Slant, to Rapid Revolver, to linked progressive combinations and premium standalone progressive games," said Steve Walther, senior director, marketing & product management. "Four years ago we developed SeleXion in response to feedback from customers looking for a multi-game machine with instant speed and long-term reliability. Now we're bringing that technology to our popular Concerto cabinet for even greater performance potential and we're combining it with high-thrill premium and core progressive products so players can enjoy a rich, immersive gaming experience with a variety of base game options on one machine."
Concerto SeleXion is available for upright and slant, each with dual 27-inch HD cinematic displays. It instantly changes between game themes, denominations, currencies, and languages as permissioned, with up to ten new KP3+ or proven KP3 platform games and the option for a progressive bonus. Also joining the Concerto Collection are two 43-inch single screen cabinets, Konami's tall Concerto Stack and curved Concerto Crescent.
"A core benefit of Concerto Stack and Concerto Crescent is that each has the big impact and exciting game play mechanics you would expect for a tall screen cabinet without exceeding the standard base size," said Walther. "Players get the premium experience of custom portrait-oriented 7-8-8-8-7 reel games like Dragon Fury and Pharaoh's Fury, and because each machine fits the same floor space as a standard cabinet, operators have the greatest flexibility when placing it at their property."
Top game themes arriving at ICE 2017 for the first time include three new base games with Asian art and design elements: Wealth of Dynasty, Winning Animals, and Power of Riches. Each is compatible with Konami's latest standalone progressive bonus called Cai Lai Si Ji, and will be featured at ICE on the Concerto Slant cabinet. Other progressives include Smash Smash Festival linked bonus, The Treasure Falls for Podium Monument, Volcanic Rush for Rapid Revolver, and Jackpot Ball for Concerto upright and Slant.
"Our global customers have full access to a rich array of new game formats and creative game content during ICE 2017 to power their business," said Mr. Walther. "The time we share with industry professionals from markets around the world is vitally important and we look forward to sharing our latest advancements, listening to feedback, and building continued collaboration for the coming year."