By
Phil
- 3 February 2017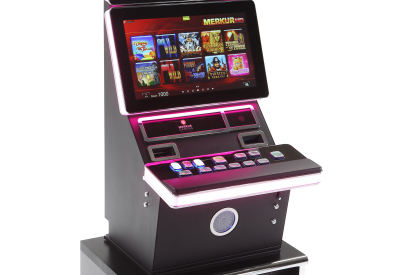 The ICE highlights of the Merkur Gaming product show will include the Avantgarde SLT and Avantgarde Trio premium multigamers and the Evostar.
Also, the latest innovation in terms of player comfort, the new Evostar that was first presented in Las Vegas, is now entering its rollout phase. The Evostar takes the quality demands of Avantgarde SLT and Merkurstar on to the next level and projects the ergonomic aspects and comfort of a slant top within the configuration of an upright cabinet in an unprecedented manner. The integrated USB port provides additional playing comfort and functionality.
In 2017, Merkur Gaming is playing with colour. Even ahead of the product show, the new Black Series, with its elegant matt black design, is already shaping up to be one of the eyecatchers of the year. Coupled with the high graphics capabilities of the black-and-white game "Win City", this modern, contrast-rich design now catapults the Merkurstar and the Avantgarde Trio to an entirely new gaming level.
The Avantgarde Highflyer will also be celebrating its premiere at ICE 2017. The 'floating' upper monitor allows players to adopt a relaxed sitting position as they enjoy a totally new interactive gaming experience. A baseplate connects the Avantgarde Highflyer multigamer to the accompanying chair, so all the player has to do is sit back and enjoy.
For that extra thrill, the Merkur Buzzer features exciting additional games. The M-BOX versions for the German and Dutch casino market also seamlessly build on Merkur Gaming's success story to date. The product show is complemented by an extensive casino offering and a range of other market-specific products.
ICE will also herald a new era for Merkur Gaming in the area of jackpot systems: with Bingo, Golden Dragon and Egyptian Treasures, the Gauselmann Group's international sales arm is gearing up for a bright future in the jackpot segment.
Diversity galore is also the name of the game with the themed games editions Fruit Suite, Random Line Suite, Egypt Suite and Hero Games. Themed to reflect acts of heroism, exploring the mystical realms of Ancient Egypt, a refreshing fruit design or the surprise-charged Random Lines package these exciting game suites provide a whole new level of player attraction. Thanks to the attractively configured game releases, players get an immediate feel for the new suites' true potential. Besides "Win City", which is reserved exclusively for the Black Series, Merkur Gaming will also launch eight more single games at this year's ICE.
"In Las Vegas, our innovations and the passion for which Merkur Gaming stands met with an enthusiastic response from customers and players alike" said Athanasios "Sakis" lsaakidis, Chief Executive, International. "We intend to continue down the same successful route at ICE. We will show our friends and partners what we have in store for them in 2017 and offer them a first glimpse of the future 'made by Merkur'. With our wide-ranging portfolio of games and cabinets, we meet the requirements of international as well as national markets and simply do what we do best: gaming entertainment!"