By
Phil
- 3 February 2017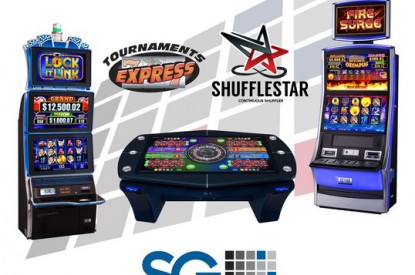 Scientific Games will feature its newest slot platforms and a host of game content to empower engagement and excitement across the casino floor.
The TwinStar dual-screen cabinet is a stunning platform for Bally and WMS games. Incorporating the next-generation ArgOS operating system, TwinStar features high-speed processing and video capabilities, along with features such as a larger iDeck multi-touch button deck; two 61-centimeter (24-inch) HD displays; a 55-centimeter (22-inch) full HD digital topper; premium sound; and game-synchronized edge lighting.
The company will highlight engaging content for TwinStar, including its Lock It Link near-area progressive titles Lock It Link Diamonds and Lock It Link Night Life. The entertaining Lock It Link respins feature adds entertainment as certain symbols lock and increase the value of each of the same symbol by the player's bet.
Another ICE reveal is the Dualos platform, a dual 58.4-centimeter (23-inch) HD screen cabinet with superior sound, OLED digital buttons, integrated ambient lighting, and a 47-centimeter (18.5-inch) digital topper. The cabinet comes with a rich game library of titles from Scientific Games' leading brands Bally, Shuffle Master and WMS.
Scientific Games will display an engaging premium game library, featuring game titles based on popular licensed brands.
World Of Wonka, already a top performer in the United States, is sure to be a favourite with ICE attendees. Featured on the groundbreaking Gamescape platform, World Of Wonka takes players on an unforgettable musical journey through the deliciously delightful, whimsically wonderful world of Willy Wonka featuring every kind of chocolate and sweet treat imaginable. Featuring three vivid, HD displays that angle toward the player, and a 101.6- centimeter (40-inch) curved top screen, players will feel the sensation of being wrapped inside Wonka's wondrous world.
Cirque Du Soleil Kooza takes center stage, pairing the award-winning Alpha 2 Pro Wave 360 slot configuration with the acrobatic adrenaline rush of Kooza. This Cirque Du Soleil Kooza-inspired gaming experience is rich in surprises, with bonus events, beautiful graphics, HD show video, breathtaking music, and a special in-game appearance by The Trickster, a popular Cirque Du Soleil Kooza character.
The Simpsons game on the pioneering Gamescape cabinet delivers breakthrough motion zone sensor technology that enables players to become part of the game. Players travel through Springfield with Homer, Moe, Apu, Chief Wiggum and other favorites and experience the chance at winning a progressive jackpot along with a Donut Wheel and three other bonus events.
The Godfather theme on the s32, offering free spins with double the lines, a five-level near-area progressive jackpot, and random character symbols that award character upgrades, respins, multipliers or more credits.
Spider-man theme on the Alpha 2 Pro Wave cabinet, featuring a three-level progressive jackpot and a wheel feature.
Space Invaders is a new style of slot game that combines classic arcade fun with slot entertainment and skill-based play.
Scientific Games, the leading global provider of casino system solutions, demonstrates leading-edge technology to empower player engagement and operating efficiencies:
iVIEW4 In-Game Display Manager — A major advancement featuring state-of-the-art web widgets and connectivity to web services. Whether it is floorwide bonusing, secondary wagering, customer service or accessing websites and promotional kiosks, the feature-rich iVIEW4 enables casinos to manage their own content dynamically. Name-brand bonusing with Monopoly, Clue, Yahtzee, and more increases entertainment.
BOSS, an exciting feature that enables players to order drinks from the slot machine through an iVIEW or iVIEW DM touch-enabled player user interface.
Scientific Games will also be showing the latest in shufflers, chip sorters and other utility products, introduces two new innovations at ICE.
ShuffleStar is a groundbreaking, low-profile front-loading shuffler that shuffles four to eight decks continuously and features a revolutionary high-speed flat-dealing shoe and sophisticated card recognition using two cameras.
Shufflink, a pioneering innovation that for the first time links shufflers, chip sorters and i-Shoes to the casino-management system to provide real-time data and reporting on table performance — without dealer input, interaction or any manual data collection.
Taking center stage in electronic table systems innovation, Scientific Games will showcase the Prizm Game Table, an industry-first in slot cabinet design.
Other electronic table systems highlights includeFusion Hybrid, a terminal-based product that connects players with live Stadium Blackjack, Stadium Blackjack Casino War, Baccarat, Roulette and Sic Bo games through cameras at each live table that showcase real-time play.i-Table, wildly popular across Europe, will feature i-Table Blackjack with a new back-betting feature as well as the popular i-Table Roulette.