By
Phil
- 28 January 2013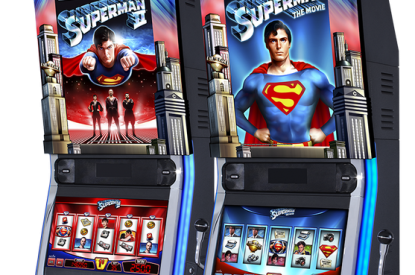 Having flown the Aristocrat flag so successfully at G2e Las Vegas, the universal appeal of Superman The Movie will be looking to do the same when the superhero slot flies into London.
Superman The Movie premieres in the VIRIDIAN Hybrid cabinet, complete with 31.5-inch Feature Top Box HD display, themed fascia and optional LCD dynamic LCD buttons. Incorporating extensive video footage from the original movie, game play comprises five interactive bonus features including a triple standalone progressive jackpot. Based on the sequel blockbuster movie, with equally strong features, game content and film excerpts, Superman II is the follow-on title previewing alongside on Aristocrat's ICE stand.
Themed on another box office hit, the Feature Top Box videogame The Mummy has recently been released in Europe, with strong sales recorded over its first month and further proliferation anticipated over the first quarter of 2013. The game will be accompanied by another sequel title, The Mummy Returns.
ZORRO has been a firm favourite on European gaming floors over the last decade and Aristocrat's most recent gaming version of the masked man, ZORRO The Legend Returns has been on European gaming floors since October. Another VIRIDIAN Hybrid game at ICE will be the romance-inspired follow-up title, ZORRO The Mask and the Rose.
Also appearing, ZORRO The Tale of the Lost Gold is a widescreen videogame utilising the proven Mega Pay format (multi reel set play) to enhance player appeal – a format already showing itself to be a popular choice amongst players with another licensed success story, The Phantom.
With a total of 97 machines hosting 57 different games, as well as demonstrations of server-based, downloadable and online capabilities, 2013 will mark the staging of the global gaming solutions provider's most expansive European showcase to date. It will also see the stand double in size.
Aristocrat's ICE 2013 collection covers a number of gaming segments, spearheaded by new high entertainment premium licensed games, a growing list of titles and themes for the VIRIDIAN Hybrid stepper platform and Feature Top Box library, further bolstering of successful multi-play games and more concept extensions incorporating the popular Mega Pay feature.
Some of Aristocrat's most loved and best performing games will be making a comeback as the 'Classics' benefit from new widescreen enhancements and the 'Legends' reincarnated in multigame twin-packs featuring the original game alongside new Deluxe versions.
Core standalone games will also be well supported with several new games and innovative game features making their debut appearance in Europe at ICE. New licensed games represent an extremely attractive proposition for many casino operators in 2013, according to Pedro De Matos, GM – EMEA. "Just as they will take prime positions serving as centrepieces on gaming floors, so too will they be our own focal attraction. Aristocrat has invested in prime brands with strong global recognition and great gaming concepts featuring entertainment, high levels of interactivity and movie quality HD animations. Momentum has been building over the last few months and Aristocrat now has a bigger role to play in European and African markets, hence the more prominent display at the region's most important show," said Mr De Matos.
"We have analysed individual territories and player requirements to identify key titles and themes for each market, so Aristocrat's product pipeline for 2013 and beyond is much more focused on customer needs than ever before. I am pleased to say that more than 75 per cent of the models being shown at ICE will be available to order immediately or within the first calendar quarter and over 95 per cent by the middle of the year."