By
Phil
- 3 February 2017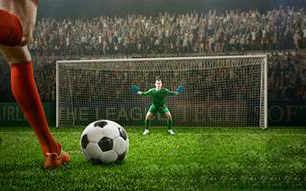 VSoftCo will hosting a penalty shoot-out simulator to announce its forthcoming Boot for Loot with prizes on offer and allow you the opportunity to see if you really are better than England at penalties.
It will also be showing its virtual football game and launching a brand new league football, that combines a league of 20 teams with 10 concurrent matches, allowing over 300,000 betting options per league week. Every event that can be bet on during all of 20 games is visually displayed for the player. There will also be the first opportunity to see the group's branded football product VStriker in operation.
Finally, VSoftCo are delighted to be unveiling their first foray into casino gaming with the launch our roulette based game Spot The Ball, offering a very modern and unique twist on the well established game of roulette.