By
Phil
- 14 March 2019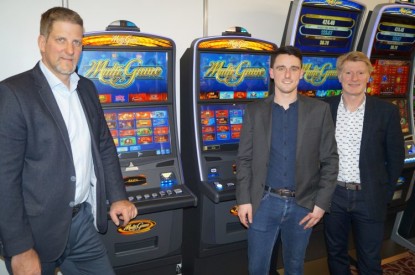 In cooperation with local partner Genesis Games, Amatic Industries was releasing Amarox C24 Nero at the Irish Gaming Show March 5 to 6 in Dublin.
The stylish upright gaming machine with three large monitors that is now available in a unique deep black finish. The sleek design gives operators a further choice of Amatic gaming machines. Amatic Industries fittingly introduced a range of new games as the Multi Game Company, making the investment in Amatic slot machines all the more compelling. The presented games cater to all types of player needs including new released titles like Ice Queen, Dragon's Gift and Crystal Fruits.
Creative in its approach, Amatic Industries is always seeking to bring new, innovative solutions that enthuse players around the world. Amatic is a specialist for automated table games and the Roulette Grand Jeu 24HX is the preferred roulette choice in Ireland. It is possible to link this roulette with individual PGA terminals (and if required further separate Solitaire roulette wheels). This is known as Amatic Landscape. This has now been expanded with the introduction of a new Sic-Bo automated gaming solution. In partnership with Autodice Ltd from the UK, Amatic Industries offers its Sic-Bo with genuine added value as there are a total of four table games available: Sic-Bo, Roulette, Black Jack and Punto Banco. Therefore, Amatic Landscape is a true multi table game, offering the possibility to link different table game solutions together (such as Sic-Bo, Roulette Grand Jeu 24HX, PGA terminals and individual Solitaire roulette wheels). Yet another benefit: Virtual roulette can also be connected to Amatic Landscape.
Landscape from Amatic Industries truly links all worlds together and is expanded to operator requirements. The long-standing independence, experience and in-depth knowledge that the Amatic team possesses were plain to see at the Irish Gaming Show 2019 with such innovation on show.