By
Phil
- 2 September 2015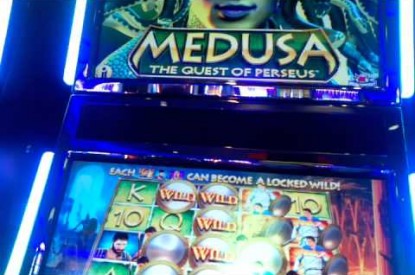 GameAccount Network has launched Medusa: The Quest of Perseus from Incredible Technologies, for Simulated Gaming in the United States.
Incredible Technologies is a Chicago-based developer of Class-III slot machines licensed in 17 US states, Asia and Latin America. IT has been working with GameAccount since 2013 to bring their unique Class III slot machine experiences to life, online, for both Simulated Gaming and regulated real money Internet gaming in New Jersey and Europe's regulated markets.
It is the seventh game theme delivered online by GameAccount for fast-growing US casino equipment manufacturer Incredible Technologies.
Medusa attracted 95 per cent more spins than Incredible Technologies prior theme 'Robin Hood: Riches of Sherwood Forest', within 72 hours of launch and over 500 per cent more bets than the average of the six Incredible Technologies games launched by GameAccount prior to Medusa. Medusa has already engaged tens of thousands of reward-card-holding casino patrons located across the United States, online, making it the most-successful online slot launch for Simulated Gaming in 2015 to date. Within the first 72 hours following launch online, reward-card-holding US casino patrons spent 50% more time-on-device playing 'Medusa: The Quest of Perseus' than online players who were not reward card holders, proving the Game theme's appeal to US casino patrons and raising the Game's profile dramatically among end user casino patrons and increasing demand for the same gaming machine on-property among slot floor managers.
Simulated Gaming is the innovative Internet gaming service designed by GameAccount Network specifically for land-based US casinos to launch in advance of prospective regulation, offering a gaming-as-entertainment consumer website and mobile Apps enabled with unique monetization features such as real-time Slot Tournaments and a compelling Internet gaming content portfolio of over 200 casino slot, table and skill-based games, including poker, backgammon, gin rummy, poker dice and blackjack tournaments
The company will launch 'Medusa: The Quest of Perseus' for real money Internet gaming in New Jersey anticipated in Fall 2015.
Supported by 32 months of operating data across three major US casino's deployments, Simulated Gaming is now proven to drive increased visitation on-property and in 2014 delivered on average a 28 per cent uplift in on-property theoretical win from increased visitation by existing patrons who also engage with Simulated Gaming online.
US casino operators report up to 50 per cent of their surveyed casino patrons are already engaged in playing Social Casinos on Facebook. Simulated Gaming enables land-based US casinos access to the Social Casino market worth an estimated $1.3bn per annum in the United States in 2015 and is proven to increase property visitation among existing patrons, reactivate lapsed patrons bringing them back on-property and drive acquisition of new patrons from outside the typical drive distance to the property
Tom O'Halleran, Product Director of GameAccount Network commented: "Incredible Technologies have a unique approach to slot design with games that have visually rich experiences and interactive bonus features that can then be leveraged online, particularly onto mobile Internet gaming devices like smartphones and tablets. When brought to life online, the richer audio visual experience engages with a wider mass-market online player demographic, as we have seen with games like 'Crazy Money' and 'King of Bling' being favourites of players from the age of 24 all the way up to 101."
Dan Schrementi, VP, Gaming Sales & Marketing at Incredible Technologies added: "GameAccount has been a successful partner for IT. We design games that are exciting and different with robust mathematical features and GameAccount has proven the ability to deliver a matching experience online. As GameAccount's online casino markets continue to overlap with our ever-growing land based footprint, the reach is driving new player demand across markets. We're excited to be bringing Medusa: The Quest of Perseus online with GameAccount – it's a proven land based title with a unique experience for the online demographic. We look forward to more successful launches soon."