By
Phil
- 31 July 2019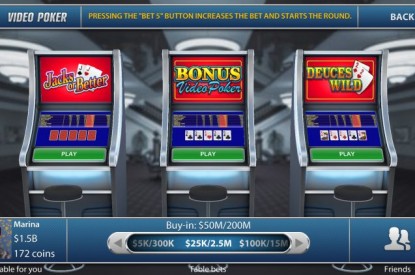 KamaGames, the largest European social mobile poker operator, has released a standalone app, Video Poker by Pokerist.
Styled with the look and feel of the traditional Las Vegas video poker machines, but with the absolute simplicity of gameplay as seen in KamaGames' slots games, Video Poker by Pokerist is the latest addition to KamaGames growing portfolio of social casino games.
At launch, the new video poker app will host three of the most popular game types – Deuces Wild, Bonus Video Poker and Jacks or Better. Each variation of the game contains its own subtle differences in the card deck and also the payback options.
To win, players have to spin the reel, wait for their cards to appear on screen and then select which lucky cards they want to freeze for the next spin, determining the ultimate outcome of the game. The higher the combinations on the screen, the higher the multiplier of the bet as a reward.
Andrey Kuznetsov, CEO of KamaGames commented on the latest release saying: "We are placing a strong focus on differentiating our portfolio of social casino games in many directions this year. As an iconic element of the Las Vegas casino, video poker is very familiar to our audience and in-line with the products they want from KamaGames. With this exciting new addition, we hope to both satisfy both our existing players whilst also attracting a fresh, new audience."
Video Poker is now available via the App Store and Google Play along with KamaGames' flagship title Pokerist which containings the complete portfolio of social casino games.
Mr. Kuznetsov added: "Video Poker is a long-established and hugely popular element in Las Vegas casinos and at KamaGames, we're committed to providing the most authentic experience possible. Therefore, we're thrilled to see the response that this latest standalone app has received from our millions of players."
"As with our other top apps, our focus has been on giving players the highest quality of gaming experience possible with a variety of titles, each holding the opportunity for completely different card combinations, gaming experiences and outcomes. This element of variety is partly responsible for success with our other titles and we're confident that Video Poker will be no different."
As such the company has prioritised uncomplicated yet rewarding gameplay, wrapped up in a classic casino design.
"Players who have experienced the real money counterpart in land-based casinos will appreciate our commitment to authenticity in both of these areas," Mr. Kuznetsov explained. "Like with Pokerist, our strategy here has been to firstly build a quality core title that encapsulates the traditional elements of a casino game. Once that's been achieved, our skill lies in seamlessly developing layers of innovation on top of that game, be it through the use of new mechanics or creative gameplay. Through this design, players have the option of interacting with either a tried and tested, classic game or something new, yet equally as engaging."