By
Phil
- 6 May 2015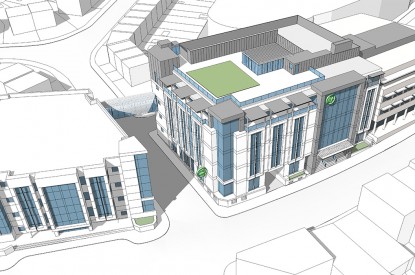 Construction has officially begun on Microgaming's new state of the art office in Douglas, Isle of Man.
The new 5-storey office building will sit adjacent to Microgaming's existing office, MGS House, which also houses Derivco Isle of Man. Both buildings, joined by a tower walkway, will be used by the technology company to accommodate its rapid on-island growth. The office has been designed to provide employees with the environment needed to thrive in business; office space will be open and designed with staff front of mind.
Roger Raatgever, CEO of Microgaming, explained: "Since we set up our global head office on the Isle of Man in 2001, we have grown at an incredible rate. We now have over 160 people in our building here on the island, and we expect this number to grow significantly over the next few years. The establishment of a new building not only shows our commitment to the island, but our commitment to look after our staff, to create an office environment that is employee-focused, suited to our fun and energetic culture, and that fosters innovation and creativity."
Keen to work with local services, the following Manx-based companies have been utilised for designing the building: Bell Burton Associates, Curtins, March Consultants Limited and SMS (IOM) Ltd. Local architects, Savage & Chadwick took the lead role in the design of the building.
Mark Savage, Director at Savage & Chadwick Chartered Architects, commented: "When designing the building, it was important for us to create an office that was not only of the highest standards in design and quality, but to illustrate who Microgaming is as a company and what it does. To complement Microgaming's pioneering and innovative way of life, the office will be ultra-modern, using quality materials and the highest attention to detail. It was a very enjoyable design experience that will now materialise into a state of the art building."
Furthermore, BREEAM, the world's foremost environmental assessment method and rating system for buildings, is being applied to the building. The team is striving for an Excellent rating (top 10% of UK new non-domestic buildings) – to be the first privately owned building to achieve this on the Isle of Man.
Construction officially started on April 7 2015, and the new building is expected to finish in 2017. Manx-based Auldyn Construction is responsible for the building's construction.
Auldyn Construction's spokesperson said: "We're delighted to be involved with this prestigious project; a commercial landmark development which will set new standards in the creation of forward-thinking environments. This contract will be a significant stimulus to the local economy, particularly the island's construction sector."
The project will provide significant economic benefits to the island, with over 90% of the operative requirement sourced from the Manx labour force. It's expected that the contract will support in excess of 50 people at peak times.
Roger Raatgever added: "We were adamant that this project should support local businesses; wherever possible, Manx workers are being utilised. It's a huge local project which is anticipated to take around two years to complete. We are doing everything we can to minimise disruption in the area and we'd like to thank everyone for their ongoing support whilst we build our future on the island."