By
Phil
- 24 November 2015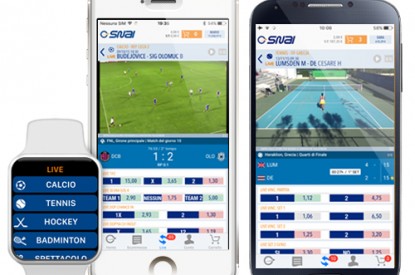 Game360, an NYX Gaming Group company, has launched its first wearable version of the '360 Betting Mobile' app with partner SNAI, a leading sports betting and gaming operator in Italy.
This launch follows the recent announcement of SNAI's contract with Game360 for the supply of online casino gaming content through their partnership with NYX. SNAI is the first client to go live with the sportsbetting app, now available to its burgeoning player base in Italy.
The Game360 mobile sportsbetting solution runs on Android, iOS and AppleWatch wearable technology and promises players an intuitive, responsive and seamless experience on their chosen devices.
In partnership with Betradar, the new app features fully embedded live streaming, providing bettors 24/7 seamless viewing of sporting events with no need to access other sources. Some of the newest features include live streaming of sporting events, provided by Betradar and players-choice live scoreboards. A new "fast bet" feature enables confident bettors to confirm their bets with a simple touch of the screen.
Andrea Guzzon, General Manager for Game360 commented: "This launch marks a significant milestone for Game360, NYX and the mobile gaming market in Italy. We are pioneers with what we believe to be the most comprehensive and user-friendly app for sportsbetting available to date. I am confident that SNAI is the ideal partner to first introduce this innovative app to players in Italy."
"The SNAI Sport app is the first of a variety of mobile products that we plan to release in the coming months. Through our partnership with Game360, our goal of becoming a new landmark in the mobile segment is a reality. We look forward to extending this new offering in the future," said Alessandro Allara, Head of Online for SNAI.