By
Lewis
- 10 October 2014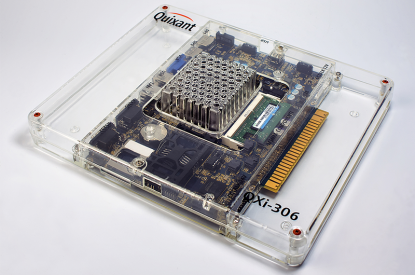 The QXi-306 is the latest in Quixant's range of gaming platforms and is designed specifically to comply with the new Comma 6a+ (AWP3) law, which is expected to be introduced imminently.  Once passed, this law will require the replacement of 400,000 slot machines across Italy within the next 2-3 years.
The QXi-306 from Quixant uses the very latest AMD x 86 technologies to deliver a high performance, low-power gaming platform with all the features necessary to design state of the art compliant gaming machines for the Italian slot machine market.
"To meet the new law requires more than just a motherboard in a box", said John Malin, Sales Director of Quixant UK.  "The new law requires the gaming board to be housed in a physically sealed, transparent enclosure.  We have developed an innovative enclosure which meets this regulatory requirement, whilst not compromising on performance", continues Mr. Malin.
Quixant's case design, which is EU patent pending and protected by EU registered design rights, combines a unique thermal "well" and heatsink extrusion which enables extraction of heat entirely by passive means, eliminating the need for cooling fans.
As well as the most advanced hardware, Quixant also provides a suite of software including the AAMS communication protocol, ccTalk stack, security features and BIOS extensions.
"We understand reducing time-to-market is an important reason to select Quixant, so to further increase the benefit we offer to our customers, we are opening a new training facility in Rome where customers can send their engineers for training and support on implementing the Quixant platform into their slot machines", said Mr. Malin.
Uniquely, with the QXi-306, customers can develop their machines around the Comma 6a law now and then migrate to Comma 6a+ using the same platform.
The combination of a strong feature-set and unrivalled customer support means the QXi-306 is set to be one of the best selling gaming boards in the Italian market.