By
Lewis
- 5 July 2021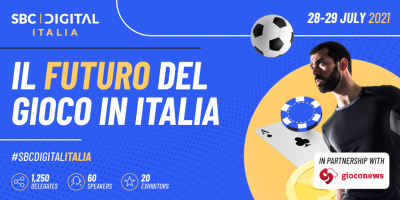 The SBC Digital Italia conference and exhibition is set to see 60 figures from the betting and gaming industry share insights about the future of one of Europe's largest regulated gambling markets.
From political pressure and the possible tightening of regulations, to the post-COVID reshaping of Italy's retail sector and how to handle the rapid growth of online gaming, there are numerous challenges for the Italian industry's key players to discuss.
The online event on 28-29 July will bring together more than 1,250 delegates to hear a selection of experts from the gambling industry, politics, law enforcement, professional sports, and the media share information and exchange ideas about how to tackle those issues.
The confirmed speakers include Fabio Schiavolin (CEO, SNAITECH), Francesco Durante (CEO, Sisal), Markus Buechele (CEO, Novomatic Italia), Marcello Minenna (Director, ADM), Roberto Ribaudo (Director, Interpol Italia Division), Carla Ramella (Director of Customs and Monopoly – Central Public Administration, Sogei), Claudio Durigon (Undersecretary, Ministry of Economy & Finance), and Ugo Taucer (Attorney General, Italian National Olympic Committee).
Day one's agenda includes a session examining what is possibly the biggest challenge faced by the industry: the proposed changes to the licensing regime and the possibility of the government ordering a complete overhaul of gambling regulation.
The programme also features a panel of CEOs debating how to create a more sustainable future for the industry in Italy, along with a session that will detail the changes the country's retail gambling sector needs to implement to aid its recovery from the financial hit of the pandemic.
Concluding the opening day's agenda is a session that focuses on the latest marketing strategies and technology, and a panel about Italy's leading role in the battle against match-fixing in international sport.
On Day two, attention will turn to the online market, with an examination of how the online gaming sector can build on the growth in player numbers and revenue it has enjoyed over the past year, a look at the potential of esports betting, and an assessment of the future of the Italian poker industry.
The event will conclude with a panel about the role of gambling regulators in the international industry, complete with examples of best practice from around the world.
Rasmus Sojmark, Founder and CEO of SBC, said: "SBC Digital Italia comes at a crucial time for the Italian betting and gaming industry, and the event will provide an invaluable forum in which to share important information and discuss ideas about the major challenges it faces.
"With the help of the in-depth local market knowledge of the team at our partner, Gioco News, we have compiled an agenda packed with topical sessions and a speaker line-up that will deliver vital insights for the audience."
In addition to the conference, SBC Digital Italia will feature a virtual exhibition with 20 suppliers showcasing their latest innovations tailored for the Italian market, and a selection of networking opportunities.