By
Phil
- 24 October 2022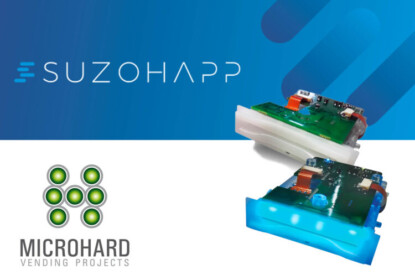 SUZOHAPP – a world leader in the manufacturing and distribution of gaming, amusement, and sports betting products, and Microhard – a well-established Italian company specializing in the design and production of innovative products in various markets, have partnered for the global distribution of cash and cashless solutions for the gaming industries.
This partnership represents a natural next step for the two companies, which have always been centers of excellence in the development of innovative technologies for cash and cashless management.
The Microhard AGE300, a triple technology card reader (magnetic, contact chip and contactless chip), has already been integrated into the SUZOHAPP product portfolio. The new Free Fall coin validator, capable of processing a large number of coins at an unmatched speed, will be available early 2023. Further Microhard solutions will be added to SUZOHAPP's product portfolio in the coming months.
"We are very pleased to start this collaboration with Microhard, a dynamic company that we greatly appreciate for its professionalism and reliability," said Tim Kennedy, Vice President Sales in Europe for SUZOHAPP. "In particular, we believe in the market potential of the AGE300 reader as player age verification is becoming a ubiquitous requirement in many European markets. We are also working together on specific projects for money management in slot halls, casinos and sportsbooks."
"We are excited about this new synergy with a historic and prestigious company like SUZOHAPP with whom we share important goals, such as offering the best possible payment experience to end users," says Fabrizio Rigo, CEO at Microhard. "We are confident that this is a winning partnership and represents the perfect opportunity to make our solutions appreciated at a global level."