By
Phil
- 20 August 2018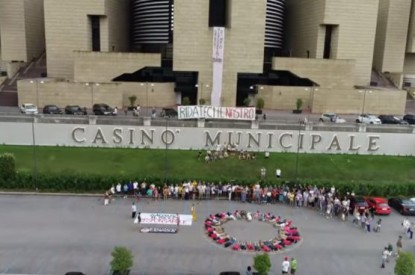 The Court of Como has forced the temporary closure of Campione d'Italia on Lake Lugano declaring it bankrupt with debts of over €130m.
The court has appointed three bankruptcy curators, Elisabetta Brugnoni, Sandro Litigio and Giulia Pusterla to examine two hypotheses: a reopening that would allow the casino to continue to operate in an attempt to honour its debt or a final closure, pending the bankruptcy procedure.
The future of 492 employees is now very much in doubt. They had voted en masse only a few weeks ago to accept an agreement to reduce their salaries to prevent redundancies but it was not enough to save the casino. The Casino of Campione is the largest employer in the municipality of Campione d'Italia, an Italian exclave within Switzerland's Canton of Ticino.
Casino workers are protesting outside the casino on a daily basis and have erected tents outside the huge venue amid banners that read 'SOS Campione is dead.'
The staff wear white T-shirts with the inscription #salviamoCampione (Save Campione) and have created a flash mob video to drive their message home that the casino must be reopened.
Rosy Bianchi, President of the Works Council, said: "It's an incredible drama for us, our families and the whole village," said
The Workers Union, the Italian General Confederation of Labor in Como, said: "The failure to reopen the casino will lead to a state of drama that hasn't yet been fully understood. It is evident that those who favour a delay in solving the problem will benefit both economically and financially. Our goal is to ensure public control, the resumption of work activity of the workforce and the activation of social safety nets aimed at restoring solutions in a wider time frame, without the need for layoffs and the collapse of an entire community."