By
William
- 27 February 2020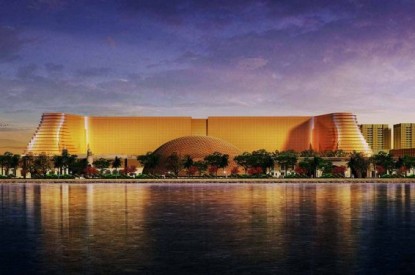 Hard on the heels of Jade SportsBet's recent launch at the flagship Okada Manila, G3 caught up with Joe Pisano, CEO of Jade Entertainment, to discuss its plans for sports betting in the Philippines and the immediate future for gaming across Asia's ever-evolving space.
Your sports betting wing, Jade SportsBet, recently launched at Okada Manila's flagship casino. How has it been integrated into the resort?
Okada Manila is very much the jewel in the Philippines' casino crown, a dazzling monolith with approximately 1,000 rooms at the heart of Entertainment City. Accordingly, we went to great lengths to make sure we had the right technology and trading partnerships in place so that we could roll out a sports betting product to match. These days, of course, we talk less about casino in isolation and more about Integrated Resorts – and with good reason. After all, it's worth remembering that we're in the entertainment business. And whenever people stop being entertained or lose interest, they want to change the channel. That can mean pivoting to a state-of-the-art sportsbook or a comprehensive casino portfolio, but also extends to the varied cuisine of top restaurants or top-brand shopping malls, all served by easy-access transport.
You allude to the leading technology and operations teams you've assembled at Okada. What sets them apart?
Jade SportsBet has teamed up with RPM Gaming, a dedicated retail and online betting and gaming company led by proven UK professionals, and we've quickly acquired one of only two sports betting licenses in the Philippines. With their unique know-how and our combined expertise, we selected Biztech Software's Arkle EPOS system for the project. This is the same system which is utilised by Paddy Power – and soon William Hill will follow suit in the UK. Arkle has been approved by PAGCOR (Philippine Amusement and Gaming Corporation) for use throughout the Philippines and has passed stringent tests to become the only sportsbook in the country with GLI-33 certification. This certificate, granted for cohesive technical excellence, provides total peace of mind for sports wagering systems across the retail estate. As for operations, we have assembled an experienced trading team embracing a flexible pricing strategy which stands out from the crowd in an increasingly homogenised marketplace for odds and offers. In turn, this gives Okada Manila's marketing team the chance to frame some fantastic propositions for their customers.
How is the cross-sell from casino to sportsbook?
Philippines customers are often fanatical about sports as well as casino – basketball, tennis, football, boxing, encompassing both local and international sport. So, it makes sense to give play to their enthusiasms with a sophisticated low-margin sportsbook, while also accommodating any committed casino players who are more unfamiliar with a sports betting proposition. This approachable, accessible touch has already proved particularly popular over the weekends when there are invariably many top-class sporting events to bet on. Okada have also constructed a dedicated Sportsbook Bar with a towering screen on which to watch all the big events, and it's already a winner for improving footfall and creating a cracking atmosphere.
How does the trading strategy work?
Just take the recent heavyweight championship fight between Tyson Fury and Deontay Wilder. In conjunction with a marketing acquisition and retention push called Beat The Odds, our traders took a view to go for a best price of evens on Wilder in the face of the typical market price of 4/5. What's more, we stood that price right up until the opening bell. As I mentioned, because this elastic trading solution allows our senior traders to maintain a proper view, it's easy for us to rise above a largely flat and standardised landscape. As a result, our customers know they're getting great value. Small wonder, then, that we witnessed encouraging spikes in player engagement on the new sportsbook, ably abetted by its wide variety of markets. One lucky Okada customer correctly placed 1,000 PHP on Fury to win in the seventh round at a whopping 40/1, while enormous interest was even generated by the undercard, where Filipino boxer Jeo Santisima attracted plenty of local interest at 16/1, only to succumb to a knockout blow in the 11th round.
What makes the Philippines an enticing gaming territory?
The Philippines is the most mature gaming market in Asia with a very diverse range of products, including Integrated Resorts, VIP Slot Clubs, e-Games venues and eBingo outlets. So, when you add in the best natural resources, coupled with some of the most welcoming service culture on the planet, it's no surprise that so many players make regular trips to stunning venues like Okada Manila for their holidays and general entertainment, particularly those from countries with less liberal gaming laws. The Philippines will remain our largest market for the foreseeable future. Away from Manila, Jade SportsBet will soon be running more betting retail outlets in eBingo halls, casinos and sports stadiums, including new projects in Cebu and Clark.
Looking more widely at Asia, where do the opportunities lie and what will drive them?
At the risk of stating the obvious, India is the one market most operators are waiting on from a regulatory point of view. With a sports-mad public already well-schooled in games of skill and chance, the opportunity is as palpable as it is obvious. Considering its population numbers 1.4 billion, you don't need to be an accountant to unpack India's potential when online gambling becomes properly regulated. Similar market conditions prevail across Indochina as a whole, but Jade has already broadened its footprint into Malaysia and Vietnam over the past 12 months. Elsewhere, we're going to witness further growth in South Korea, while I can also see Japan opening wide its doors to electronic gaming, with legislation to allow land-based casinos over the coming years. It's an exciting time. Ultimately, though, technology will power most of the gaming evolution across the continent, so Jade are bidding to stay ahead of the game with the latest AI algorithms.
What's the roadmap for Okada Manila?
On the trading side, we will continue with our Beat The Odds service, unveiling a market-leading jackpot promotion and rolling out some unique markets for the local PBA basketball season which starts in the Philippines over the coming fortnight. Following in the tradition of popular NBA markets, we'll be offering a wide range of player props (under / over) on player performances for some of the PBA's domestic stars. Localised strategy and betting solutions have always formed a key cornerstone of Jade Entertainment, and this is a logical extension of that ethos via our breakthrough sportsbook. More broadly, with sports betting revenue ramping by around 40 per cent year-on-year, we are looking to build on 2018/19 figures which heralded a GGR of $20,000,000 from 108 outlets. Jade now has plans for 120 further outlets, so we look forward to scaling up with confidence alongside RPM Gaming, who will continue to run the operations and deliver market-leading technology.