By
Phil
- 8 June 2021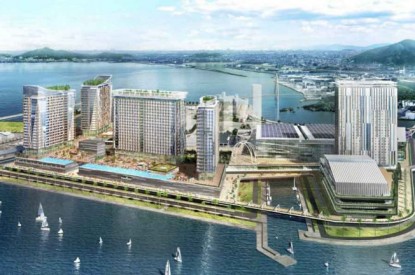 Groupe Partouche will be the casino operating force behind the Integrated Resort casino in the Japanese prefecture of Wakayama, having partnered with the prefecture's chosen operator Clairvest Neem Ventures.
Clairvest Neem Ventures also named AMSE Resorts Japan as a core member in the development saying it will 'have the combined expertise of the two most experienced teams in the world, in IR development and management as well as the largest operator of games and hotel complexes in Europe.'
Jeff Parr of Clairvest Neem Ventures, said: "We share with our two partners a common vision of the national IR program in Japan and are convinced that this partnership will help strengthen the economic recovery after the Covid-19 pandemic, thanks to an increase in international customers as well as a significant influx. in Wakayama Prefecture and the Kansai region."
AMSE is supported by William Weidner, former president and CEO of Las Vegas Sands Corp. (LVS), and his team at Global Gaming Asset Management LLC, by Bradley Stone, former president of international operations and constructions at LVS, and by Garry Saunders, former COO of Melco Resorts & Entertainment and vice president of operations at l from LVS, as well as Mario Ho, Esports entrepreneur.
Mr. Weidner and his team have created and managed the most iconic RIs in the world, including the spectacular Marina Bay Sands in Singapore as well as the majority of LVS assets in Macau and the United States. Their expertise and experience bring a new dimension in sophistication to the Japanese RI scene and thus add to our wide range of on and offshore development and operating partners.
Mr. Ho who has entrepreneurial experience in technology, in digital game publishing through iDreamsky and Esports, and who has also created one of the largest Esports clubs in Asia, will contribute to Wakayama IR by developing the Esports infrastructure both at the level software than hardware. Mr. Mario Ho said: "With our team and the Wakayama IR as the main base of the different clubs, we hope to make Wakayama the Esports center of Japan".
Groupe Partouche, the consortium's gaming operator, has a long experience in the operation of gaming halls and a great tradition of hospitality in Europe, including at multiple known historical sites and the most beautiful and important gaming establishments. French, in Paris, Nice, Cannes, Aix-en-Provence and Switzerland. The Group has extensive expertise in complex cross-border regulations, thus managing a total of 42 gambling authorizations. His diverse business experience includes managing hotels, restaurants, golf resorts, spas and beaches. Patrick Partouche, Chairman of the Supervisory Board, was personally involved and brought the Group's interest from the start in the development process of IR in Japan.
Clairvest added: "The combined experiences of all these partners combined with the dynamics of the region and regulatory support will enable Clairvest Neem to create what will be the next international IR destination."