By
Phil
- 6 March 2017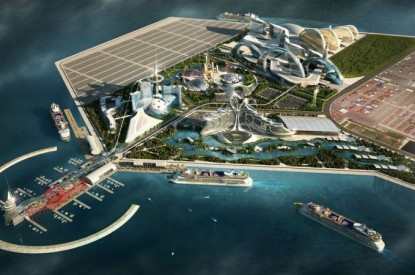 Fitch Ratings has revalued its predicted annual gaming revenue in Japan, forecasting that it will range between $5bn to $10bn per year, falling far short of earlier predictions from CLSA that it will generate revenues of $20bn a year.
As a yard stick, Macau's casino sector is being tipped to generate $25bn in 2017.
Fitch gaming analyst Alex Bumazhny said: "I don't think Japan is going to catch up with Macau for the simple reason that I think Japanese lawmakers, when they're making the bills, will limit the amount of gaming that could take place. What we're talking about is two to three large integrated resorts, maybe a couple more regional type of small casinos, so limited amount of positions."
The analyst believes that gaming operator balance sheets are generally well positioned to undertake the scale of investment Japanese officials may require to build new casinos in the country.
Global casino operators have used the last six years of US economic expansion and the early 2010s Macau boom to fortify their balance sheets. Large-scale capex programs are now at their tail ends and it would likely be at least two years before the projects in Japan are shovel-ready, allowing operators to build up more cash.
Longer term, winning a major integrated resort (IR) license to operate a casino in Japan would be a credit positive.
The analyst said: "An IR, which we think would generate more than $1bn in EBITDA, would address two important credit factors Fitch assesses for gaming companies: it would improve geographic diversification and would likely benefit from a monopolistic position. In the near-term, however, funding a large-scale project (two operators mentioned spending up to $10 bn) could stress liquidity and potentially drive up pro forma leverage, depending on the funding strategy and the ultimate performance of the IR."
Fitch said that 'some operators are better financially positioned than others to deal with the associated risks, with Las Vegas Sands best positioned of the global US based gaming operators.' Conservatively assuming a $10bn project price tag, a 15 per cent return on investment and a 90 per cent loan-to-value debt funding, pro forma gross leverage will remain at or below 4x, Fitch's investment grade (IG) threshold for LVS. Further, LVS' liquidity position is strong with $1.4bn of cash net of cage cash estimated by Fitch and a run-rate annual FCF of roughly $650m (not giving full credit to Parisian, which opened in September).
MGM Resorts International is also well positioned to undertake an IR project. However, Fitch believes that winning a license may slow MGM's momentum toward IG. Without the IR, MGM's leverage declines toward 4x by 2019 according to Fitch's forecast, but it could be closer to 5x if MGM pursues an IR project (with the same assumptions as for LVS). Like LVS, MGM has excellent liquidity with over $1bn of excess cash and is positioned to generate substantial FCF once MGM Cotai opens in the first half of 2017.
Wynn Resorts, like LVS and MGM, has excellent liquidity but has the highest leverage of the three operators. Wynn does not have any major maturities until after 2020 and has $1.8bn of cash net of cage cash and pro forma for the Las Vegas mall sale. Excluding the IR development, Fitch calculates Wynn's leverage at 9.4x but expects leverage to be less than 6x by 2019 when Wynn Boston opens. (Fitch subtracts dividends to Macau's minority shareholders from EBITDA when calculating leverage for all three operators).
Other operators that may bid on an IR license include Melco Crown Entertainment and Genting Group. Both have solid balance sheets and liquidity.
Specifics such as tax rate, operating restrictions, and number of licenses will be ironed out next year in a separate implementation bill. Discussions have centered around limited number of licenses for large-scale IRs in major metro areas and possibly several smaller casino resorts in less densely populated regions.
Fitch expects restrictions similar to those in Singapore, as there was considerable concern among some law makers regarding problem gambling. "We expect the limited number of licenses and the potential operating restrictions to limit the total market potential relative to Japan's large and relatively wealthy population base," it said.