By
Phil
- 20 August 2014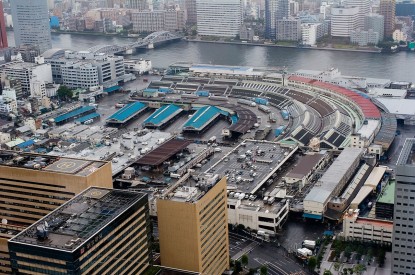 MGM Resorts is believed to have viewed the largest fish market on the planet as a potential site for the casino resort it wants to develop in Japan.
According to a report from Bloomberg, MGM's Chief Executive Officer James Murren toured the Tsukiji market in central Tokyo in March to analyse the potential of the 231,000 sq. m. parcel of land that city may sell after its vendors move to a new location. Whilst the land price will be high, footfall is equally as high due to the location's accessibility and closeness to tourist attractions such as the lavish shopping destination of Ginza as well as the Shiodome skyscraper district.
Jay Defibaugh an analyst with CLSA, said the location was 'unrivalled' in Tokyo in terms of accessibility and described it as being 'very appealing' to casino operators.
The site is owned by the Tokyo government who opted way back in 2001 to relocate the market from Tsukiji to a larger location being built on reclaimed land in Tokyo Bay. The fish market attracts 42,000 visitors each day with over US$4.1bn worth of seafood sold each year.
MGM's Senior Vice President for global gaming development Ed Bowers revealed that MGM would need at least 30 acres to develop a casino resort adding that both Odaiba and Tsukiji had arisen as potential sites but that ultimately the decision would be made by Tokyo's city government who seem to prefer the concept of developing on reclaimed land in Odaiba in Tokyo Bay.
Odaiba, is located 5km from the business district close to the Tokyo's main train station, as well as shopping malls, the Tokyo Big Sight convention center, a ferris wheel and the HQ of of Fuji Television Network. It was the location former Tokyo Governor Shintaro Ishihara had envisaged for casino development.
It is owned by several companies whilst the fish market in Tsukiji is owned only by Tokyo's government.
The opening parliamentary debate on a bill to introduce resort casinos got underway in June. The ruling Liberal Democratic Party wants casinos as part of Prime Minister Shinzo Abe's aim of increasing economic growth by doubling the number of foreign tourists visiting Japan to over 20m by 2020. The bill is the first part of a two-stage process. After it has been passed the government will piece together legislation within a year to legalise resort casinos.
Prime Minister Shinzo Abe has said: "Integrated resorts will be a main feature of my growth strategy."
Japan has attracted interest from most of the largest international casino operators. I think integrated resorts will be a key part of Japan's economic growth strategy. I would like them to deliberate with a perspective on what needs to be done to bolster Japan's attractiveness, and how to get people to visit."