By
Phil
- 3 February 2023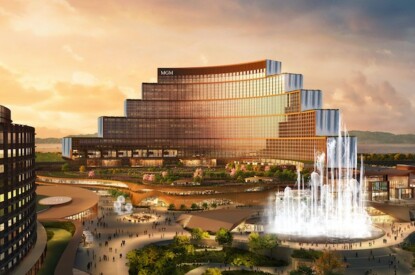 S&P Global Ratings believes that MGM Resorts' cost for its integrated resort in Yumeshima, Osaka, Japan, which it is hoping to open in 2029, could be between US$2bn and US$2.5bn.
The consortium fronted by MGM Resorts and ORIX, has previously said it will spend big in Osaka to guarantee its success in the race for one of three Japanese casino licences with a planned investment of JPY1trn (US$9bn).
S&P said: "MGM believes its equity contribution could be spread over several years, perhaps 2024 to 2026," it added. Based on the current timeline and the likelihood that Japan will not issue a licence until 2023, we do not expect material spending to begin before late 2023 or 2024. It will likely take several years to complete. MGM anticipates opening the resort in the second half of this decade."
The plan is for MGM and Orix to both own 40 per cent of the project with local investors taking the rest.
"If the consortium does not bring in additional investors, MGM's and Orix's ownership would each increase to 50 percent," S&P explained. "MGM's sizable equity contribution represents a possible leveraging risk over the next few years as MGM will not receive any cash flow benefits from the project. Nevertheless, if successful, the resort could broaden MGM's geographic reach and scale and enhance its global brand reputation as an integrated resort developer."
MGM ended up being the only casino candidate in Osaka's IR race with Genting Singapore, Galaxy Entertainment, Las Vegas Sands, Melco Resorts & Entertainment and Wynn Resorts all previously pulling out.
The group of companies will submit its formal proposal on July 20 with the plan to spend US$182m on extending Osaka's subway to the site of the casino .
MGM has previously said: "Osaka is an incredible city that is passionate about business, food, and having fun. MGM and our Japanese partners intend to deliver a Kansai-focused IR that will wow visitors from far and wide. We expect that the IR will attract both international visitors, as well as people living in the Kansai region and Japanese tourists from other parts of Japan. Regional IRs in the United States, including MGM's properties in Detroit and Maryland, receive more millions upon millions of visitors every year."
"We want to provide guests with a new IR destination experience that is uniquely Japanese. Japan is advanced in technology innovation. It is also known as the best in class in terms of hospitality, rich in arts, culture and food. We respect the spirit of "Omotenashi" and Japanese vibrant traditions. We have already learned so much from Japan that we have been able to export to other markets in which we operate."