By
Phil
- 30 August 2019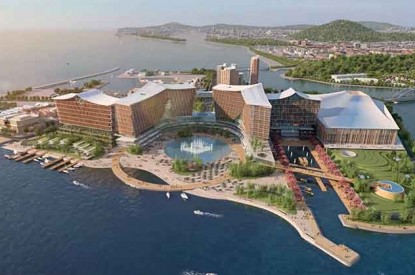 Macau-based Suncity and Bloomberry Resorts, owner of Solaire Resort & Casino in the Philippines, have launched their blueprint for an IR license in Wakayama.
The pair launched their concept a symposium in Wakayama where they showed a video of their plans which includes a 2,500-room hotel and an exhibition hall to hold 12,000 people.
Suncity Executive Director John Au said the aim was to 'create a brand new IR in Wakayama that the world has never seen.'
"The site will attract the most well-to-do in Asia as a gathering point for entertainment and traditional culture," he said.
Vice President of Bloomberry Resorts Japan, Mitsuaki Kiriyama, added: "We will develop variety in tourism that includes education, agriculture and fishing in the Kansai area, and cooperate with local governing bodies to achieve a special economic zone."
Other features include a possible water taxi port. The company's website said: "We will challenge regional revitalisation focusing on integrated resort facilities as well as nature, culture, history and people's activities. We will promote the development of international tourism cities that make the most of the assets of Wakayama Prefecture, focusing on integrated resort facilities."
Suncity Group runs 18 VIP Clubs in Macau as well as others in the Philippines, Vietnam, Cambodia, Korea and Australia. It also has a 34 per cent share of Hoiana, a Vietnamese project which is set to open in December 2019, and owns 27.95 per cent of Summit Ascent Holdings, which operates Tigre de Cristal in Vladivostok, Russia.