By
Phil
- 7 August 2017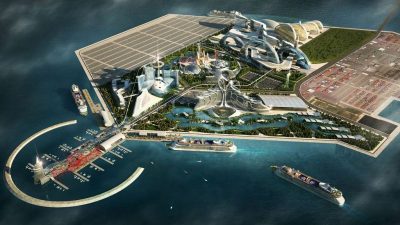 'Two major integrated resorts' located in Japan's Yokohama and Osaka could produce GGR of US$7bn per year, according to brokerage firm Nomura.
Nomura predicts that the bill could be passed in June 2018, 'putting the resorts on track for opening in 2023.'
Nomura said: "Both of these cities are ideal locations for integrated resort development considering their: significant local population (about 9m); sizeable inbound tourist flow (10m to 18m per annum); and strong infrastructure support (with international airports and world-class theme parks within close proximity). We are bullish on the prospects of the Japan gaming industry."
"We believe a US$7bn gaming market would allow the two IRs to each generate annual property EBITDA of nearly US$1.6bn (16 per cent return on invested capital), assuming VIP and mass GGR tax rate of 13 per cent and 23 per cent, respectively (largely in line with that of Singapore).
It expects the casinos to be allowed to operate 850 mass gaming tables which will bring in US$1.7bn in revenue. Slot GGR would reach US$1bn per casino per year.
It thinks that the Japanese government "has slowly steered away" from casinos in less populated regions as 'those locations are unlikely to attract sufficient investment that can change the city landscape and hence unable to serve the government's objective which is to stimulate tourism and local economy".
Nomura looked at the Singapore method of statutory entry levy for local players.
"Currently, an entry levy of SGD100 [US$73.5] per day or SGD2,000 per year is imposed on the Singapore residents if they were to enter the casino. If the Japanese government were to impose an entry levy that is significantly higher than that, there is a risk that the mass GGR could come in significantly below our estimate as we expect vast majority of the mass revenues to be sourced from the locals."
"The central government will select local governments, which will in turn select private-sector operators through a bidding process, and selected operators then have to undergo strict qualification screening by the central government," said Nomura.
It pitches the required investment at at least JPY500bn (US$4.5bn) 'to be competitive.'
The brokerage said: "With the Japan IR likely to monopolise the gaming market of that [chosen] city, and with the relatively low gaming penetration in Japan, we believe the developer of the integrated resort will be willing to undertake hefty capex [capital expenditure] on building the resort as we estimate the Japan IR to cost US$10bn to build."
"Japan's casinos will probably rely on overseas VIPs spending JPY5 million to JPY10m per stay, and we think operators will target a customer base skewed toward premium customers (average annual incomes of around JPY100m)."