By
Phil
- 12 December 2019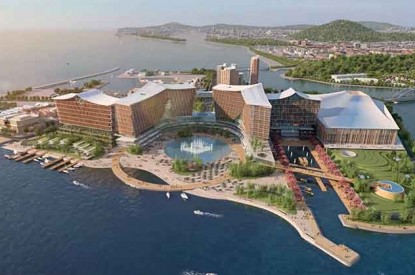 Suncity Group, Bloomberry Resorts and Lucien Barrière will find out whether they have a future as a casino operator in the Japanese prefecture of Wakayama by Autumn 2020.
That is of course if the national basic policy for Integrated Resorts bids is decided in January 2020. The tender of a licence in Wakayama, in the Kansai region, on Honshū island's Kii Peninsula, will then get underway by the spring.
Government officials in Wakayama want to develop an Integrated Resorts on the manmade island of Wakayama Marina City and have earmarked an opening of 2024.
Officials want the resort to make use of natural tourist resources, such as nearby Shirahama and Mount Koya. It would be located about 40 minutes from Kansai International Airport and a 70 minute drive from Osaka. The project would need to have a 2,500 room hotel with a convention centre and exhibition hall.
Asian junket group Suncity Group would spend between HK$30bn and HK$35bn (US$3.8bn to US$4.5bn) on an Integrated Resort in its Wakayama.
Suncity CEO Alvin Chau said the vision was for a 'unique project combining Wakayama Prefecture's historical tradition, natural landscape and cultural essence.'
He said: "We will present to the world the unique charm of Wakayama. I believe our ideas are in line with what the Japanese government is looking for in regional development Wakayama is rich in Japanese tradition and culture and has an abundance of nature in the mountains and sea. We are planning a resort that incorporates these charms."
Vice President of Bloomberry Resorts, owner of Solaire Resort & Casino in the Philippines, Mitsuaki Kiriyama, added: "We will develop variety in tourism that includes education, agriculture and fishing in the Kansai area, and cooperate with local governing bodies to achieve a special economic zone."
Having opened an office in the region, Lucien Barrière also stressed the importance on maintaining harmony with nature, and the promotion of tourism to Mount Koya.