By
Phil
- 25 April 2022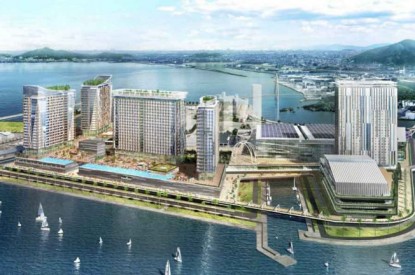 Plans to develop an Integrated Resort casino in Wakayama have now ended following a vote in Wakayama Prefectural Assembly committee by 18 votes in favor, 22 votes against with Wakayama Governor Yoshinobu Nisaka saying it was 'a bitter blow.'
It leaves only Nagasaki and Osaka in the bidding for two of the three casinos licences being offered by the Japanese government.
The move pulls the plug on Caesars Entertainment looking to break into Asia as the chosen operator for the Clairvest Group bid. The two has planned to build an IR at Wakayama Marina City, covering 569,000 sq. m. with the gaming floor taking up 38,000 sq. m. There would have been 2,700 hotel rooms, an international exhibition hall and conference hall and a focus on nature with a theme of 'a land of wood and a land of water.'
The Clairvest consortium including Clairvest Neem Ventures (Tokyo), Clairvest Group, Caesars Entertainment, Nishimatsu Construction Co. and Credit Suisse failed though to piece together a suitable financing package .
The aim was to open in the autumn of 2027.
Governor Nisaka said: "The prefectural assembly's decision is regrettable, as a casino resort would be a catalyst for regional development."
Kazumi Yoshii, a local assembly member of the LDP, added: "The fund-raising plan is vague and uncertain, so the central government won't accept the project."