By
Phil
- 8 November 2019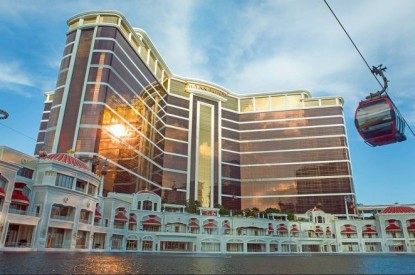 Wynn Resorts has warned there is a ceiling to its investment in a Japanese IR.
Wynn CEO Matt Maddox said: "We are going to pursue Japan with vigour but we will not pursue it if it does not make financial sense. We're going to be very disciplined in terms of how any structure is put together, what the costs are going to be and what the return profile is going to be. We like the Japanese market, we think that it will be a very high revenue market, but we're focused on making sure it will be something that our shareholders will also like."
He believes the award of the three IRs in Japan will take longer than expected with late 2020 a likely date for the conclusion of the race.
"I still believe that this is going to be a longer process than a lot of people are anticipating," he said of Wynn's Japan efforts.
"We have people on the ground. We're building up our team. And we're going to make sure that if there is something that's right for Wynn that it is financially sound, that the project is something that will change the company and we're with partners that share our same values."
Mr Maddox was speaking to investors as Wynn delivered its Q3 results when 'abnormally low hold' wreaked havoc on the company's results.
"In the third quarter in Macau we generated $301m of EBITDA," he explained. "However we had a hold impact from our direct business of approximately $22m. VIP continued to compress but I believe that is quite temporary. Mass continued to grow. We maintained our share in mass market and slots at 14 per cent. The investments we have made position us well to compete in any market environment, as evidenced by record mass table win in the quarter. Our strategy at Wynn Las Vegas continues to bear fruit as we increased market share in our domestic gaming business and drove nearly four per cent year-on-year growth in RevPAR. During our first full quarter of operations at Encore Boston Harbor, we have been particularly pleased with the strength of our table games business and we are encouraged by the opportunity to drive growth at the property over the next several years."
Operating revenues were $1.65bn for the third quarter of 2019, a fall of 3.6 per cent, or $61.3m, from $1.71bn for the third quarter of 2018. Operating revenues decreased $132.4m and $105.3m at Wynn Palace and Wynn Macau, respectively, from the third quarter of 2018, and were relatively flat at the company's Las Vegas operations. The decrease in operating revenues at Wynn Palace and Wynn Macau was partially offset by operating revenues from Encore Boston Harbor of $175.8m.
In terms of Encore Boston Harbor, Mr. Maddox added: "We've been open for 136 days in Boston and we're learning each and every day how to become more local. We've been tweaking our food and beverage product to make sure we're giving the customers what they want. We've been working on our messaging and we now have new messaging out to the market. We are going to the first time in our company's history in North America launch a loyalty card tiered card program and that will be launching in Boston in the first quarter. And I'm sure as all of you that are very familiar with our business know a tier card program is essential in a regional marketing in a regional property. Our table games business in Boston and our hotel business have been quite encouraging. And we always knew the slots would take time to ramp. If you think about it when we opened our doors in our local database we had zero customers. Fast forward 136 days and we have 250, 000 people in our database which is significant growth."
Caption: Wynn Palace in Macau