By
Phil
- 21 November 2014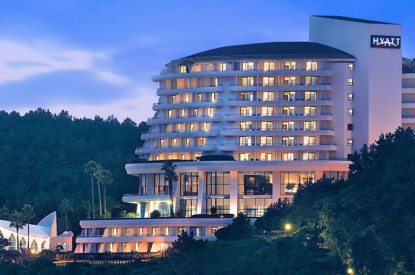 Genting Hong Kong is to invest US$117.2m in a 50/50 joint venture with Chinese property developer Landing International Development to operate a gaming floor in the Hyatt Regency Hotel on South Korea's Jeju Island.
The move to rebrand an existing casino will see the Genting brand enter Jeju earlier than expected following delays to its $2.2bn Resorts World Jeju, a project where it is also teaming up with Landing.
The casino in the Hyatt Regency is one of eight gaming licenses in Jeju under the Tourism Promotion Act. It is currently being refurbished with an opening date of January 2015 earmarked for its 30 gaming tables and 16 slot machines. The joint venture will operate the Jeju Casino under the Genting brand.
Genting is keen to cement a move into Jeju following doubts over the future of its much bigger Resorts World Jeju project.
In February, Genting Singapore said it was partnering with Landing International Development, marking it first move into South Korea with Resorts World Jeju. The resort is to feature roller coasters, hotels with castle-like facades and replicas of monuments like the Taj Mahal and the Pyramids.
However the Governor of Jeju, Won Hee-ryong, has heaped doubt on the timing of the project saying the island must be 'vigilant about protecting our citizens from unscrupulous operators.' He wants to set up a supervisory body for casinos which could take up to a year.
Genting is keen to prove its worth in Jeju by investing into a much smaller, existing property.
Landing Chairman Yang Zhihui is confident about the prospects for Jeju, as it has a visa free policy for more than 180 countries including China and Japan.
"The transaction will lead to the introduction of the first world-class casino brand to Jeju, marking a key milestone in the tourism industry," he said. "Leveraging Genting group's international expertise in world-class resort operation, the joint venture will be able to tap on a reliable and reputable platform for the development of Jeju's tourism industry. We are always excited about the enormous potential of Korea gaming market. We are particularly bullish on the development of Jeju, the largest island of Korea. Our cooperation with Genting HK will introduce to Jeju an international world-class experience and expertise in operating and managing a world-class mega gaming and integrated resort. It will be able to greatly enhance the operational efficiency and performance of the Jeju Casino and lay solid foundations for the future development of our businesses in Korea, including our jointly-developed Myth-History Park project, and turn Jeju into a paradise of North Pacific," he added.