By
Phil
- 27 September 2019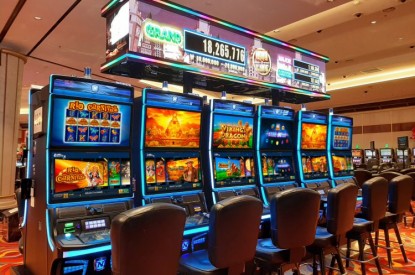 Korean casino Kangwon Land has installed 68 Novomatic gaming machines further augments the casino's international approach in terms of gaming technology.
State-of-the-art gaming equipment from Austria has long been a part of the gaming offer on the casino floor. Friendly business relations go back to 2009, and over the years, the casino has regularly stocked up on Novomatic gaming equipment. The Kangwon Land casino floor offers its guests exclusive gaming entertainment on some 200 live gaming tables, 208 ETGs and 1,360 slot machines. Working hard to maximise the footprint of Novomatic gaming technologies in Korea, Novomatic's long-term distribution partner, Korea Gaming Solution (KGS), has recently been able to further augment the steady stock of Novomatic games in the casino: A total of 68 video slots have been installed, increasing the total count of Novomatic machines on the casino floor to 280 units or over 20 per cent of the floor share.
This latest addition includes the Pathera 2.27 cabinet, the proven Dominator Curve 1.43 as well as the Gaminator Scorpion 2.24 – each with a selection of games that ideally meet the preferences of the casino guests: Novo Line Interactive Edition X, Novo Line Interactive Premium Editions 2 & 3 and the Novo Line Interactive Concurve Edition 3. This broad selection of Novomatic game content ideally complements the gaming offer at Kangwon Land Casino.
Sang-Rae Lee, Slot Manager at Kangwon Land said: "I am very pleased that our guests really enjoy playing Novomatic products. I look forward to seeing more new games coming out in the future."
Samuel Lee, CEO of KGS: "Novomatic has a huge growth rate every year in our market. Not only in Kangwon Land Casino – in fact all our customers are satisfied with the Novomatic products. It is a great honour to be able to deliver these products to the Korean market."
Set in the beautiful and breath-taking mountains of the Gangwon Province lies one of Korea's most famous and popular leisure resorts: Kangwon Land comprises the High 1 Ski and Golf Resort including the hotel & casino and is operated by the national government, together with the provincial office of Gangwon-do. Among a total number of 17 casinos in Korea, Kangwon Land Casino is the country's largest and the only one where not only foreign visitors, but also Korean residents are allowed to play. Sophisticated interior design, a relaxed ambience and first class service guarantee maximum convenience for the guests and also, in terms of gaming technology, the casino management puts great value on a varied offer that meets the most modern international standards.