By
Phil
- 16 August 2019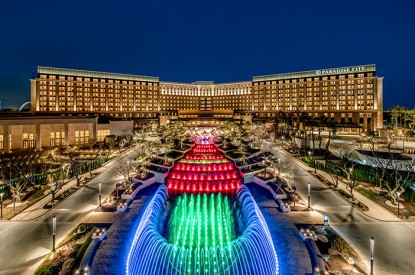 South Korean casino Paradise City reached 'a record high' in the three months to June 30 with casino revenue at the Incheon resort up 61.5 per cent in the second quarter to KRW86.35bn due to improved gambling spend by Chinese and Japanese gamblers.
Drop increased by 33 per cent year-on-year to a record KRW1.85tn thanks to improving momentum in both Chinese VIP, which was up 66 per cent and Japanese VIP, up 27 per cent.
Japanese VIP customers accounted for 34.6 per cent of revenue for the three months whilst Chinese VIP customers accounted for 30.5 per cent of the total table drop.
The improvement in Paradise City's revenues took it past Paradise Walkerhill as the group's highest earning casino.
Overall the group recorded KRW2.06bn for the three months ended June 30 having reported a net loss of KRW7.53bn for the first quarter of 2019. Paradise also runs foreigner-only casinos in Seoul, Jeju Island, Busan. Revenues at its Jeju Grand casino increased by 136.8 per cent, to KRW9bn.
The company should make a profit in the third quarter of 2019, according to JP Morgan Securities for the first time since the third quarter of 2018.
The brokerage firm believes the casino company could generate profits of in excess of US$27.2m for the second half of this year having made a loss in the first half of the year. They've pitched potential third quarter profits at $3.3m.
DS Kim, Jeremy An and Christine Wang said: "Profitability should improve meaningfully from here given the continued ramp up of Paradise City and likely improving hold ratio. We expect net profit to turn positive from the third quarter."
They also highlighted higher than average advertising spend in the current quarter as part of Paradise City's second anniversary celebrations, adding that such costs were likely to normalize in coming quarters.
"This, along with continued ramp-up (both gaming and non-gaming), leads us to forecast Paradise City operating profit to turn profitable from 3Q onward," they added.
They believe the increase will be driven by the opening of more gaming and non-gaming space at the flagship casino resort Paradise City.
.