By
Phil
- 8 August 2022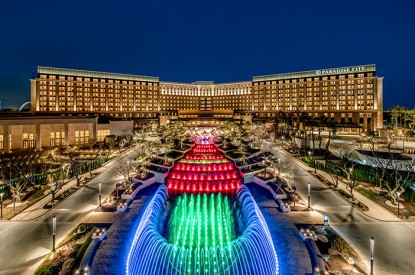 Despite casino drop coming in at just 16 per cent of pre-pandemic levels and attendance at just 31.8 per cent, Sega Sammy Holdings was able to announce a second quarter revenue rise of 70.9 per cent year-on-year at its jointly owned Paradise City South Korea.
The company said revenues 'remained sluggish due to the restriction of foreign visitors in each country caused by the spread of COVID-19.'
It stated: "While international visitors to Japan continue to be affected by travel restrictions, the domestic demand recovered centered on individual customers, because there were no state of emergency, etc. put in place by the government or local municipalities during the first quarter ended June 30, 2022. Visits of Japanese VIP have been resumed due to partially relaxed travel restriction from June 2022, and the group will continue to enhancing marketing and strengthening the ability to acquire guests."
Ordinary loss of JPY 1.27bn (US$9.4m) was narrowed from a loss of JPY 1.96bn (US$14.5m) a year earlier.
In the company's pachinko and pachislot segment, net grew 1.9 per cent to JPY 10.56bn (US$78.2m) with loss more than halved to JPY 646 million (US$4.8 million).
The company said: "With regard to the pachislot and pachinko industry, the removal of machines based on former regulations was completed as of January 31, 2022, and the market has shifted to the new regulation machines. For pachinko machines, multiple titles gaining popularity were released and a strong utilization has been maintained. For pachislot machines, although the business became sluggish prior to the launch of No. 6.5 models as a new regulation responding to the revision of regulation, titles supported by users have appeared since the introduction of No. 6.5 models in June 2022, leading to expectations for demand expansion in the future."
In the Pachislot and Pachinko Machines, the group will launch pachislot and pachinko machines in earnest from the second quarter of the fiscal year. For pachislot machines, the Group started to launch No. 6.5 models such as "Pachislot Kabaneri of the Iron Fortress" released in July 2022, and both sales and utilization have got off to a strong start. The Group will proceed with the launch of No. 6.5 models such as "Pachislot Persona 5", "Pachislot Hard Boiled", etc. Also, smart pachslot from November 2022, and smart pachinko from April 2023, which will offer an expanding range of gameplay, are scheduled to be introduced. The Group will actively launch models responding to the revision of regulation, and strive to increase "Share in utilization, in installation, and in sales". Of note, there is no meaningful impact at this time, while parts procurement still requires monitoring.