By
Lewis
- 16 April 2018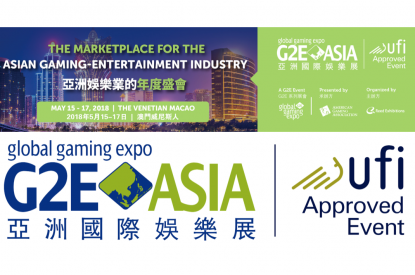 An exclusive insight into IR operations in Macau is being offered to EMEA casino operator executives at G2E Asia 2018
G2E Asia 2018 has teamed up with Asia-focused gaming consultants, Dynamic Partners, to offer a select number of EMEA casino operators exclusive access and insight into the operation of some of Macau's most successful casinos. The Cotai Trek will be a two-day organised event that will encompass guided visits to several casinos including City of Dreams Macau, Galaxy Macau and Wynn Palace as well as C-level networking opportunities.
Cotai Trek attendees will kick off the program by attending the Presidents' Reception at 16.30 on Tuesday 15th, which will be followed by the G2E Asia Awards Dinner held between 19.00-21.00 on the same evening.
Wednesday the 16th May will include a guided property tour of key Macau properties between 10.00-13.00. Each property toured will focus on areas in which that property excels, providing insights into areas of Entertainment, VIP Gaming and Luxury in Style.
The Cotai Trek is free to attend with attendance limited to ownership and C-level executives, with a total number of 25 places and a maximum of two attendees per organisation. In addition to the guided tour and networking opportunities, G2E Asia organiser Reed Exhibitions is offering 2 complimentary hotel nights per attendee as part of the package.
Harmen Brenninkmeijer, Managing Partner Dynamic Partners: "The Cotai Trek is a unique opportunity for EMEA casino operators to get insight behind the scenes of some of Macau's, and the world's, most successful casino operations. We have organised this event with G2E Asia to give EMEA operators the opportunity to better understand how to serve a unique customer demographic that is becoming internationally more relevant year-by-year."
If you are an EMEA casino operator and would like to register your interest to attend then please email [email protected] with your name, organisation and contact details. Applications close 16th April 2018.
Dynamic Partners is an Asia-based consultancy with partners that have worked internationally in the gaming industry for over 25 years. Dynamic Partners is focused on being a bridge into Asia for international gaming companies and provides insight, expertise and know-how to established and new ventures.