By
Phil
- 20 April 2015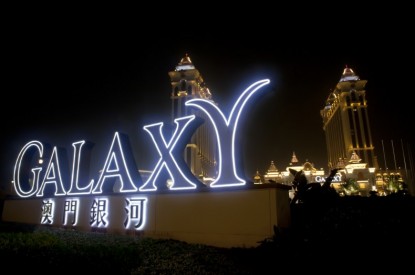 Macau operator Galaxy Entertainment posted quarterly revenue of $13.7bn in the first quarter of 2015 with gaming revenue down by 34 per cent.
Galaxy Macau delivered Adjusted EBITDA of $1.8bn, a decrease of 35 per cent year-on-year and 11 per cent sequentially. StarWorld Macau's Adjusted EBITDA decreased 44 per cent year-on-year and six per cent sequentially to $605m.
The group's total gaming revenue on a management basis in Q1 2015 decreased 34 per cent year on-year to $13.3bn as total mass table revenue decreased 16 per cent year-on-year to $4.3bn and total VIP revenue dropped 41 per cent year-on-year to $8.7bn.
Dr. Lui Che Woo, Chairman of GEG said: "We continue to experience the same macro challenges as all the concessionaires in Macau. These are the result of a combination of factors and they are impacting customer spending behaviour. That said, our business remains healthy and we continually review our operations to ensure that both short and longer term opportunities are maximized.
"The current headwinds are not a surprise to the market or to GEG. As always, we are actively managing our properties to leverage and mitigate market conditions, maximize revenues and manage costs, in order to drive returns," he added. "The apparent impact these challenges have had on financial performances in the first quarter has been exacerbated by the strength of the all-time record trading period in early 2014, against which our current performance is compared.
"We remain optimistic in the longer term outlook for Macau despite the current challenges and we are now absolutely focused on executing the openings of Galaxy Macau Phase 2 and Broadway at Galaxy Macau. Together, these two new openings will offer some of the most exciting and diverse attractions in Macau, appealing to every member of the family. In particular, we are pleased to welcome two additional world class hotels, The Ritz Carlton, Macau and the JW Marriott Hotel Macau to join the family of hotels at Galaxy Macau. Our truly integrated resort includes new signature features such as: the new Skytop Adventure Rapids which complement the largest skytop wave pool in the world; the Broadway Theatre; the Broadway street entertainment district; the Promenade and a portfolio of new MICEE and meeting venues. We are confident that the opening of these new facilities will drive returns."
In the first quarter of 2015, Galaxy Macau reported Adjusted EBITDA of $1.8bn, down 35 per cent year-on year and 11 per cent sequentially. Revenue of $9.2bn represented a decrease of 28 per cent year-on year and 15 per cent sequentially.
During the first quarter, mass revenue of $2.9bn decreased by 14 per cent year-on-year but grew six per cent sequentially.
VIP win of $5.6bn declined by 35 per cent year-on-year and 24 per cent sequentially. Hotel occupancy at Galaxy Macau which encompasses three five star hotels was 95 per cent.
In Q1 2015, StarWorld Macau delivered quarterly revenue of $4bn, a decrease of 42 per cent year-on-year and 14 per cent sequentially.
Galaxy stated: "As anticipated, the challenges of 2014 have continued into 2015 and their impact has been felt across the market including at GEG. The Group continues to manage its properties effectively, in light of these conditions, and drive profitability."
"With the opening of Galaxy Macau Phase 2 and the Broadway at Galaxy Macau on May 27 2015, GEG is well positioned to leverage Macau's growing visitation and its exciting future growth potential. We believe that the structural shift in the market to mass will continue in the coming years, with visitors drawn to a number of major new projects in Macau that will greatly enhance its MICEE, recreational, dining, retail and entertainment offer."