By
Phil
- 25 May 2018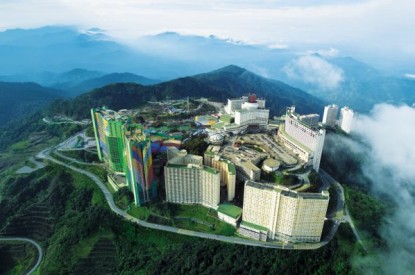 Gross Gaming Revenue at Malaysia's Resorts World Genting (RWG) has increased by 19 per cent, reaching RM1.6bn in the first quarter of 2018, according to its owners Genting.
The operator has also seen impressive gains at its Resorts World Sentosa (RWS) in Singapore with revenues there up to RM2bn for the first three months of the year.
Overall, Genting Berhad reported that its GGR was up ten per cent to RM5.3bn for the period ending March 31 with profit up by 17 per cent. The company reported declines of 12 per cent in the UK, where it operates 43 casinos, and of nine per cent in the US where it operates Resorts World New York in Queens.
"Resorts World Sentosa [in Singapore] recorded higher revenue and Adjusted EBITDA in the current quarter on the back of healthy growth in volumes across all major business segments," Genting said in its quarterly report. "The ongoing strategy to focus on affluent regional business proved to be effective as the mass and premium mass business continued to deliver encouraging results.
"The Lunar New Year period saw bustling VIP rolling volume, notwithstanding a calibrated credit risk model. Non-gaming business also recorded improved performance with daily average visitation exceeding 18,000 across the attractions and the hotels achieving a high occupancy rate of 94 per cent.
"The increase in revenue from Resorts World Genting [in Malaysia] was due mainly to overall higher business volume from mass to premium segments of the business. The opening of new attractions under its Genting Integrated Tourism Plan (GITP) has also contributed significantly to the increase in revenue. Consequently, the increased revenue, partially offset by higher costs incurred for the new facilities under GITP contributed to higher Adjusted EBITDA."
"The ongoing development of the GITP at RWG remains the primary focus of the Genting Malaysia Group as it prepares to roll out the new Skytropolis indoor theme park and the highly anticipated Twentieth Century Fox World Theme Park," the company said.
"Meanwhile, the Genting Malaysia Group remains committed to intensifying database marketing efforts to optimize yield management and improve operational efficiencies and service delivery at the resort. Additionally, the Genting Malaysia Group will place emphasis on strategic marketing efforts and leverage on the introduction of new world- class facilities and attractions at RWG to expand into regional markets."