By
Phil
- 24 February 2023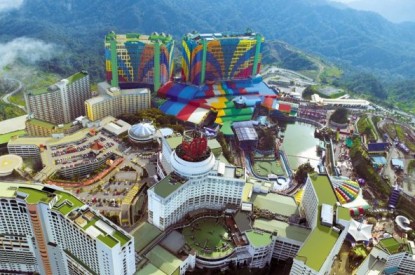 Despite revenues being 29 per cent up in the three months to December 31 2022, Genting Malaysia Berhad announced a loss of US$106m due to a series of one-off expenses.
Promisingly, group revenues came in at US$548m with its flagship casino Resorts World Genting in Malaysia up 65 per cent to US$359m.
The operator said: "These improvements were largely attributable to the overall higher volume of business registered at RWG, as the resort's improved operating performance was driven by the continued ramp up of its business following the lifting of COVID-19 related restrictions, and the reopening of national borders in Malaysia from 1 April 2022. Additionally, the launch of Genting SkyWorlds Theme Park in February 2022 had contributed to greater non-gaming revenue in the period.
"As a result of the ramp up of its operations, the Group incurred higher operating and payroll related expenses in 4Q22 as compared to the same period last year."
Revenue at the company's US and Bahamas properties grew 31 per cent year-on-year to US$104m with UK and Egypt falling by 23 per cent to US$76m.
There was a higher volume of business from its land-based casinos following the re-opening since mid-May 2021 as well as reopening of Crockfords casino on July 20 2022. Revenue for FY 2021 was
impacted by temporary closure of land-based casinos in the UK from early January to mid-May 2021
amid a national lockdown in response to the outbreak of COVID-19 with all COVID-19 restrictions ended
on February 24 2022.
Genting highlighted the contribution from non-gaming revenue following the opening of Hyatt Regency JFK Airport at Resorts World New York City on 11 August 2021 and higher revenue recorded by Resorts World Bimini as a result of relaxation on travel restriction since June 19 2022.
"These improvements were largely driven by the recovery of the Group's operations in Malaysia. The Group continues to be cautiously optimistic on the near-term outlook of the leisure and hospitality industry and remains positive in the longer-term.
"In Malaysia, the Group will continue to focus on ramping up its operations at RWG to pre-pandemic capacity whilst building on its service delivery and product offerings to enhance the quality of guest experience. The Group will also leverage its quality assets to grow key business segments and attract incremental foreign visitation to the resort in view of the anticipated improvement in the pace of recovery in leisure travel following the recent relaxation of travel restrictions in the wider region.
"The Group will continue to remain agile in responding to the fluid business environment with continued focus on operational efficiencies and cost management to deliver a sustainable performance."
For the year as a whole, revenues doubled to US$1.94bn.