By
Phil
- 30 August 2023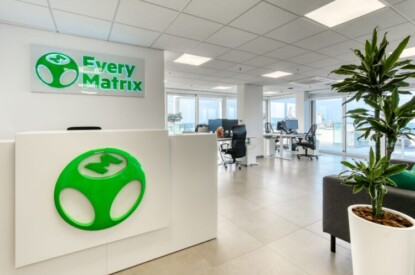 Rapid growth B2B iGaming technology provider EveryMatrix has registered a seventh consecutive record quarter with profit margin skyrocketing 55 per cent, making it one of the most profitable tier-1 suppliers in the industry right now.
EveryMatrix's Q2 2023 update shows significant organic growth and profitability across Casino, Sports and Platform powering the business to a seventh successive record quarter with Net Revenue of €27m and EBITDA of €15m, up 82 per cent and 188 per cent respectively Year-on-Year (YoY) and up 15 per cent and 42 per cent Quarter-on-Quarter (QoQ).
EBITDA/Net Revenue margin rose from 45 per cent in Q1 2023 to 55 per cent in Q2 2023, EveryMatrix's highest ever quarterly profit margin, driven by strong growth and successful cost control.
It has been yet another record-breaking quarter across all business segments with EveryMatrix Casino products consistently proving to be the driving force behind the accelerated growth of multiple global tier-1 brands.
EveryMatrix set a record quarterly Gross Gaming Revenue (GGR) performance for operator partners within its Casino business unit generating €432m, an increase of 86 per cent YoY compared to the same period in 2022, 16 per cent up on the previous quarter.
Casino Net Revenue was also a record, rising to €12.6m for the quarter, 83 per cent higher than the same period last year.
CasinoEngine, EveryMatrix's industry-leading productivity platform, generated a monthly turnover of €4 billion and surpassed 4bn monthly game rounds for the first time.
The Sports business unit generated €57m in GGR, a YoY rise of 137 per cent, while Sports Net Revenue for the quarter rose 79 per cent compared to the same period in 2022.
EveryMatrix's Platform business unit saw a Net Revenue rise of 85 per cent YoY with clients reaching more than 90,000 bets per minute during peak time while simultaneously migrating several major customers to its completely rewritten and ultra scalable wallet service.
On July 1 EveryMatrix acquired DeepCI, a unique, data-driven betting and gaming affiliate optimisation service. DeepCI proprietary technology monitors tens of thousands of affiliate sites on a global basis with the ability to identify the location of each gaming brand on every page of every website. This allows it to establish how much exposure each brand receives and how effective it is on each site, page, and market, while providing actionable recommendations to operators.
It delivers its services to some of the world's largest betting and gaming brands including bet365, 888.com, Betway, and Betsson.
The service empowers gaming companies to track both their own and their competitor's performance and make rapid, revenue generating optimisation decisions. Due to its remarkable growth DeepCI has already reached profitability.
The DeepCI team has been integrated into EveryMatrix with CEO Lewis Civin managing the business as an independent part of the Group.
Ebbe Groes, Group CEO of EveryMatrix, said: "This business, and our team of more than 750 people across 12 countries, continue to amaze me every day generating consistent, record growth and profitability for our customers who continue to benefit from the industry's best casino, sports, and platform products.
"Our mission this year centres around our relentless drive to deliver the highest quality technology and services for our customers, and a seventh record quarter in a row proves we are firmly on course to achieving our goals.
"Our acquisition of DeepCI shows we are constantly looking to add complementary and innovative technology to our existing offering. Alongside our PartnerMatrix business unit this game-changing technology will create even more value for our clients and I'm excited with what more we can achieve in the quarters to come."
The company signed 26 new contracts signed across eight markets. It signed with 2win.mk, EveryMatrix's sixth European Lotteries/World Lottery Association customer with OddsMatrix sportsbook. LotteryEngine went live live with its first client, powering omnichannel ticket sales for the Malta National Lottery. The company added 50+ new customers via DeepCI acquisition. It went live with DraftKings and WynnBet in the US market.