By
Phil
- 5 June 2019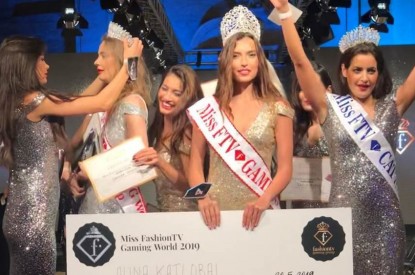 FashionTV Gaming Group (www.fashiontvgg.com) has crowned the very first ever Miss 'FashionTV Gaming World' Alina Katlobai during a glamorous event at the historic Fort St Elmo, in the capital of Valletta.
The chic event brought together industry leaders, local celebrities, as well as high profile individuals from both the worlds of fashion and online gaming.
The event's main sponsors included the award-winning tech giant BetConstruct, and Vbet, an international successful leading online gaming operator that offers a wide highly creative range of casino games as well as live casino games and tens of thousands of global sporting events.
Today, FashionTV Gaming Group represents one of the most unique and fast-growing companies in the international gaming industry, that's backed by global TV network giant FashionTV, which enjoys over 2 billion viewers around the world.
Over the last four months, FashionTV Gaming Group has been taking the industry by storm, holding a series of glamorous launches around the world while introducing its unique concept across Europe, India, Africa, Asia and beyond. By doing so, FashionTV Gaming Group has been the first world mover to bridge the real world of high fashion and glamour with the virtual world of online gaming.
By applying a unique B2B sublicensing model for the powerful FashionTV brand and its vision, FashionTV Gaming Group allows software providers and suppliers around the world to build and run their own FashionTV branded gaming products via sublicensing model; including developing FashionTV branded games and websites, as well as rolling out a series of branded casinos, live dealers, sports betting sites, bingo, lotto and other gaming verticals.
The event also marked the debut of 'FashionTV Gaming World' an exclusive space reserved to those compatible with this grand vision. Being a part of this exclusive World offers the global gaming industry the opportunity to launch a new gaming venture under the FashionTV franchise, allowing it to capitalise on the global reach and power of this mega brand.
"It's is more than a brand, it's a lifestyle and FashionTV Gaming World embodies this vision. Being a first of its kind, the new 'FashionTV Gaming World' welcomes a new era of online gaming and grants access to areas that were previously unattainable, offering a slice of FashionTV sophistication across both the real and virtual worlds", noted Aviva Baner, Head of Media at FashionTV Gaming Group.
A panel of judges for the Miss FashionTV Gaming Awards 2019, headed by Mrs Alona Fischbein, Fashion TV Executive Director, selected the gorgeous Alina Katlobai from Ukraine as Miss Fashion TV Gaming World this year. Ms Katlobai, a talent by herself, was awarded the unique opportunity to become the face of FashionTV Gaming Group for 2019 in its various ventures around the world as well as a cash prize.
"This event was a great representation of what to expect from the FashionTV Gaming World and we look forward to sharing the FashionTV experience with others in the near future", Ms Baner concluded.