By
Lewis
- 14 July 2020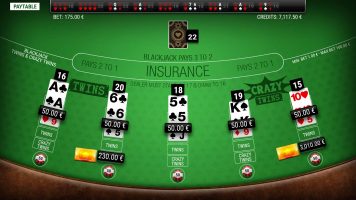 GAMING1 has launched Blackjack Twins and Crazy Twins; offering unique side bets on its digital versions of the casino table game.
Developed in partnership with JD Supplies & Services, Blackjack Twins and Crazy Twins puts a fresh spin on blackjack, offering players the chance to win up to 300x their original bet with a winning Crazy Twins.
Typical blackjack side bets are based on a combination of 52 cards, but Crazy Twins requires players to win their blackjack hand to win the side bet, offering a unique twist on the classic game while boosting engagement.
With prizes building anticipation, players can also choose between normal and VIP tables, as well as a host of different side-bet options – allowing them to enhance the excitement while maximising their betting strategy.
Commenting on the launch, Sylvain Boniver, GAMING1's COO and Co-Founder, said: "We're thrilled to unveil an exciting new twist on casino's most popular card game with Blackjack Twins and Crazy Twins, which offer one of the industry's biggest wins on a single pair of cards.
"Featuring unparalleled synergy between land-based and online markets, the product is tailor-made for omni-channel focused operators looking to get the best out of their retail and online offerings."
Joris Dubois, CEO at JD Supplies & Services, who developed the product in partnership with Gaming1, added: "We hugely enjoyed developing BlackJack Twins & Crazy Twins with Gaming1 and are delighted with the result.
"Our innovative side-betting format has already proven to be a player favourite across land-based casinos and are fully confident that it will be just as big a hit with the online industry."