By
Phil
- 25 February 2019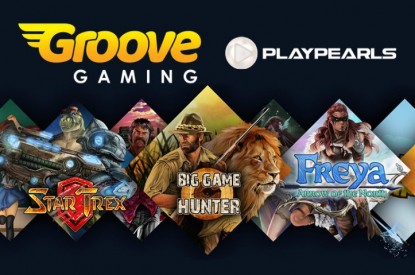 GrooveGaming has signed a significant content deal with PlayPearls on the back of its participation at ICE 2019.
PlayPearls is well known as a leading live casino platform provider as well as being a prolific producer of content and captivating offerings across a wide array of betting games, poker, lottery provision and animation. This mutually beneficial relationship marks a significant success for both companies and gives promise for more exciting developments in the online gaming world's future.
GrooveGaming consolidated its position as a holistic one-stop shop for the global gaming industry with the launch at ICE 2019 of Groove LottoCity and Bingo Groove, significantly expanding the aggregator's key offering as a global entertainment ecosystem.
GrooveGaming's advanced technology business provides cutting-edge products and services throughout the entire value chain in the iGaming industry. GrooveGaming has a diverse portfolio of proprietary and 3rd party HTML5 video slots and table games as well as over 1700 casino games together with the biggest Lotto, Bingo, Live games, Scratch, Multiplayers and Sportsbook.
GrooveGaming occupies a particular space in the global iGaming market with their revolutionary plug-and-play platform recognising that many casinos are becoming increasingly frustrated by slow integration times and long launch queues. Operators are now finding a new, easier and much faster way to boost content and gambling channels with the GrooveGaming platform.
Apart from the growing portfolio of games, other GrooveGaming services include advanced marketing and management system, risk management, regulatory compliance, business intelligence, affiliate promotion and customer service, as well as support in launching, maintaining, and growing new online casinos.
PlayPearls founder and CEO, Vesa Lumielle said: "We're delighted to announce this content deal with GrooveGaming. PlayPearls' mission is to exceed the expectations of our clients and partners, and we are able to do that through this agreement. We aim to preserve the nostalgic prestige of traditional casinos while expanding the power of social iGaming and riding the wave of the future with an enlightened and forward-looking platform like GrooveGaming."
Rebecca Sotomora, Head of Sales at Groove Gaming said: "We're very excited to be able to make this content agreement announcement following ICE, giving us yet another reason to engage with the iGaming community as a holistic ecosystem. This partnership has massive potential to grow even further and we're both in a very strong position to capitalise on this."