By
Lewis
- 10 February 2021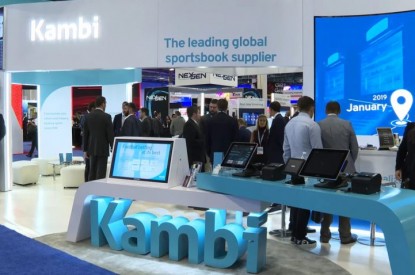 Kambi has posted record quarterly performance with revenue up 76 per cent year-on-year and operator turnover rising 77 per cent, driven by a busy sporting calendar, exceptional operator trading margin and growth in new markets.
Revenue amounted to €46.9m for the fourth quarter of 2020 and €117.7m for the period January to December 2020. Operating profit for Q4 was €22.2m, at a margin of 47.3 per cent and €32.2m for the year, at a margin of 27.4 per cent.
Profit after tax amounted to €17.3m for the fourth quarter and €24.1m for the year. Earnings per share for the fourth quarter of 2020 were €0.558 and €0.781 for Jan-Dec. Cash flow from operating and investing activities (excluding working capital movements) amounted to €20.5m for the quarter and €28.7m over the twelve month period.
During the quarter, Kambi supported Rush Street Interactive and DraftKings with online launches into the US states of Iowa and Tennessee. The company also agreed two new partnership agreements, signing with the Belgian National Lottery and JVH Gaming and Entertainment in the Netherlands
"As we reflect on what has been exceptionally challenging 12 months, it's particularly pleasing to complete the year with a record Q4 performance and annual revenues up by 28 per cent," commented Kristian Nylén, Chief Executive Officer.
"At the start of 2020, full year revenue of €117.7m would have been deemed a great success, so to have delivered such a performance, in spite of the sporting calendar being severely impacted for the best part of four months, speaks volumes for the business we have created, our talented people and the upward trajectory we are on.
"Kambi finished the year in fine fashion, with year-on-year Q4 revenue up by 76 per cent to €46.9m and operator turnover rising 77 per cent at an operator trading margin of 9.4 per cent. The Kambi Operator Turnover Index came in at 989 which was a clear all-time high, while our business model illustrated the scalability it possesses with an operating margin of 47 per cent.
"The US continues to be a success story, with Q4 delivering expansion into Tennessee's online market and three on-property launches across Michigan and Mississippi. Our US-facing partners are increasingly leveraging Kambi's differentiation capabilities in areas including risk, pricing and front-end, to forge unique paths in their respective markets. With major states such as Texas and New York now looking closely at online sports betting, it's clear Kambi's US journey is in its early stages.
"Our strong growth means Kambi is now operating at a scale like never before, which in turn allows the Kambi sportsbook and service to continuously evolve. The powerful partner network we have created, with fantastic partners from around the globe, produces ever increasing amounts of unique data, from which we can draw valuable insights to help us improve and continue to offer a high-performance sportsbook.
"Over the past few months, and despite restrictions on travel, we have successfully grown the global network with four new partners. While the November signing of the Belgium National Lottery was addressed in our Q3 report, we closed out the year with the addition of JVH Gaming and Entertainment in December. JVH is the largest private casino group in the Netherlands, a country we expect to introduce a new regulatory framework later this year.
"In recent weeks, we have signed partnership agreements with Racing and Wagering Western Australia and Argentinian casino operator Casino Magic and we look forward to launching with all our new partners in the coming months. While there is understandably great attention given to the promise of the US market, this quartet of partnerships, spread across three continents, underlines the exciting opportunities that lie in other corners of the world and cements Kambi's position as the global market leader.
"In summary, it's been a year that's shown that when working together, we can find the right responses to the toughest of challenges. The Kambi model is based on partnership, on sharing, on working together with our partners to ensure they have the best chance of success. The model was undoubtedly stress-tested in 2020 but it passed with flying colours, leaving me more excited than ever about Kambi's future."