By
Lewis
- 6 July 2020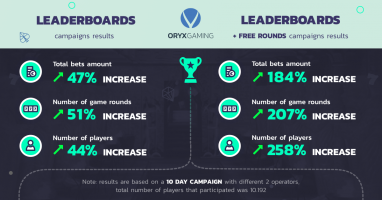 ORYX Gaming has hailed the successful launch of its leaderboards and tournament tool after operators experienced a spike in overall gaming activity, player engagement, conversion and retention rates.
The ORYX Realtime Tournaments and in-game Leaderboards tool was introduced in May, enabling operators to set up slot tournaments, across multiple game providers, with a real-time data feed which allows players to track and compare their results with others.
Over a 10-day span, two different types of marketing campaigns were set up using the tool, giving away cash prizes and free round incentives. Operators immediately saw significant increases in bet size and player session length.
The total bets amount increased 47 per cent while the number of game rounds grew 51 per cent and the number of players by 44 per cent. When including free rounds incentives to the campaign, the totals bets amount increased 184 per cent, the number of game rounds by 207 per cent and the number of players by 258 per cent. The initial results were reported by two operators with the total number of players participating 10,192.
Matevz Mazij, Managing Director of ORYX Gaming, commented: "We're thrilled to already see the results of our Realtime Tournaments and Leaderboards tool and how it can be easily used by our partners as a powerful marketing incentive that helps keep players excited, entertained and engaged while they are playing the games they love the most."