By
Phil
- 6 December 2022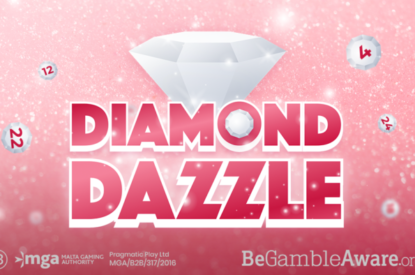 Pragmatic Play takes its full house to the next level with the introduction of Diamond Dazzle Bingo; the 90-ball bingo game with a sparkly Diamond Dazzle bonus feature. 
There are up to four prizes to be won in each round, and at the beginning of each game, diamonds will show numbers ranging all the way from 1 to 24.
As the exhilarating game commences the numbers of the diamonds are called, and each diamond value is revealed to players before disappearing.
The Diamond Dazzle feature occurs when a player wins a Full House, presenting them with an evaluation for the 25th diamond dependent on the numbers called in the game and the number of precious gems remaining.
Players can choose to accept and take the value being offered or take a risk and decline for the chance to win bigger rewards.
The Diamond Dazzle Jackpot Game is available for players who have staked in the jackpot-winning game are eligible for a share of the jackpot.
The jackpot is shared between the Full House winner/s (50 per cent) and the other 50 per cent will be shared equally with other players who bought tickets into the game and guessed the same as the full house winner. 
Claire McDaid, VP of Bingo at Pragmatic Play, said: "Diamond Dazzle Bingo is an experience that gives players a sense of a familiarity with an in-game gamble feature, packing a punch with its high engagement level.  
"Introducing the Diamond Dazzle community jackpot feature strategically means that spectators get that extra chance of winning even when the 1L, 2L and FH prizes have already been won. This gives the voting element of the game that extra sparkle"
Pragmatic Play currently produces up to seven new slot titles a month, while also delivering Live Casino and Bingo games as part of its multi-product portfolio, available through one single API.